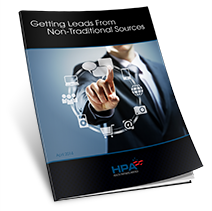 'Things are different now,' explains Health Partners America (HPA) CEO Mel Blackwell, 'and if agents and brokers want to succeed, they have to be willing to change the way they do business. The good news is that they have some options.'
Birmingham, AL (PRWEB) April 09, 2014
Health Partners America (http://www.healthpartnersamerica.com), a company that provides training, tools, and technology solutions for insurance agents and employers who are navigating the health reform legislation, announces the release of its new white paper – Getting Leads from Non-Traditional Sources. This 12-page document was written to help health insurance agents and brokers, who are used to working year-round, develop some ideas to stay busy for the next seven months.
Individual health insurance policies have long had a rolling enrollment in most states – individuals and families could apply for coverage whenever they wanted, so successful brokers had a steady flow of customers all year long; that all changed this year, though, as a result of the health reform legislation. Now all health insurance is "guaranteed issue" – meaning individuals cannot be declined due to pre-existing medical conditions – but most health insurance applications must be submitted during the annual open enrollment period, which just ended March 31st and doesn't start up again until November 15th.
Fortunately for agents, there are plenty of things they can do over the next several months – including some strategies they can implement right away – to help generate individual leads.
"Things are different now," explains Health Partners America (HPA) CEO Mel Blackwell, "and if agents and brokers want to succeed, they have to be willing to change the way they do business. The good news is that they have some options."
Some of those options are detailed in this new whitepaper, including the strategy of finding individual leads in companies that currently offer health insurance. As the paper explains, throughout 2014 employers will be re-evaluating their employee benefits program and deciding whether they should continue to offer group health insurance or not. Those that decide to abandon their employer-sponsored plan – either because it's become too costly or because they don't want to block their employees from a subsidy or because the penalty for not offering coverage is significantly lower than the premium they'll pay if they continue to offer insurance – will need to have a solution lined up for their employees, who will have a limited "special enrollment period" during which they can apply for coverage. Brokers who have partnered with HPA have the technology to enroll a lot of individuals at once and are able to provide that solution.
There are other ideas in the paper – several of them – that can help brokers position themselves for success in the fall and maybe even land a "big fish" like a franchise or an association that would have been out of reach in the past.
"Health reform is a game changer," says Blackwell. "Most agents know that by now, but they're not sure how to play by the new rules. This paper gives brokers a playbook to help them succeed."
Health Partners America is offering the full report at no cost through the company's website.
About Health Partners America
Since 2007, Health Partners America has been providing game-changing training and solutions to agents and brokers nationwide. HPA is a technology and consulting company that works with and through brokers in order to engage with the marketplace through healthcare reform. HPA Partners with agents and brokers nationally to bring them technology solutions, private exchange sites, marketing tools, training, and leverage to help them be more successful.
###
If you'd like more information about this topic or about HPA, please contact Katie Burns at 205-443-2184 or visit http://www.healthpartnersamerica.com.