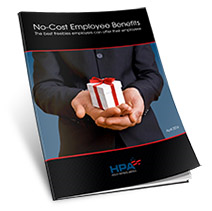 There are plenty of options a company can offer to its employees that don't cost the company anything at all, yet they're still greatly appreciated by employees.
Birmingham, Alabama (PRWEB) April 29, 2014
Health Partners America (http://www.healthpartnersamerica.com), a company that provides training, tools, and technology solutions for insurance agents and employers who are navigating the health reform legislation, announces the release of its new white paper – No-Cost Employee Benefits. This 10-page document gives insurance agents and employers some ideas to increase the return on investment of an employee benefits package – not by reducing the amount the company is paying (the investment) but rather by increasing employee satisfaction (the return).
Employers offer health insurance and other employee benefits in an effort to attract and retain quality employees. But the health reform legislation is changing the way employees evaluate these benefits because both employees and their family members who are eligible to enroll in a company's group health plan – which has long served as the cornerstone of most benefits packages – are generally ineligible for the more generous government subsidies in the individual marketplace.
Employers that make the decision to drop their group health plan in 2014 or 2015 might be doing so for their employees' own good, but the fact that their workers could do better on their own doesn't eliminate the company's recruitment and retention needs. This paper provides some ideas to help employers with those efforts.
"As the paper explains, group health coverage is so expensive for many employers that it may have crowded out other group-based insurance options, like dental, life, and disability, so companies that drop their health plan might now have the money to offer some of these benefits, which are greatly needed and highly valued by employees. But "not all benefits have to cost money," explains Mel Blackwell, CEO for Health Partners America (HPA). "There are plenty of options a company can offer to its employees that don't cost the company anything at all, yet they're still greatly appreciated by employees."
Blackwell is referring to two types of benefits that are described in the report – so-called "worksite" or voluntary benefits, which employees can purchase at group rates with pre-tax dollars, and other "freebies" that a company can choose to offer. The tax-free benefits can save both the employer and the employee money by reducing the FICA tax (Social Security and Medicare) liability, and employees can sign up for these programs online through a private exchange website. But the other benefits – often called "perks of the job" – are the "icing on the cake," according to Blackwell. They have enormous value because they increase employee satisfaction without impacting the employer's bottom line. With very little and sometimes no investment on the employer's part, Blackwell points out, "that's a pretty good ROI, and employers should look to work with agents who have partnered with HPA and are able to offer all of these solutions and benefits."
Health Partners America is offering the full report at no cost through the company's website.
About Health Partners America
Since 2007, Health Partners America has been providing game-changing training and solutions to agents and brokers nationwide. HPA is a technology and consulting company that works with and through brokers in order to engage with the marketplace through healthcare reform. HPA Partners with agents and brokers nationally to bring them technology solutions, private exchange sites, marketing tools, training, and leverage to help them be more successful.
###
If you'd like more information about this topic or about HPA, please contact Katie Burns at 205-443-2184 or visit http://www.healthpartnersamerica.com.