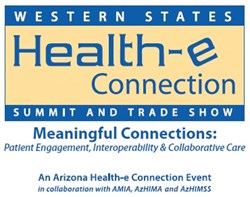 Scottsdale, AZ (PRWEB) August 30, 2013
Health BI the leading (SaaS) Care Transition and Coordination Management Solution provider will demonstrate the HealthCollaborate™ Care Transition Management System at the upcoming Western States Health-e Connection Summit and Trade Show in Phoenix, Arizona on September 10-11 at booth 224 at the Phoenix Convention Center.
HealthCollaborate™ enables Healthcare providers and Health Plans to efficiently and cost-effectively transition large population of patients from hospitals to ambulatory and community care settings.
Built on care coordination best practices, HealthCollaborate™ provides an all-in-one hosted solution that includes: Transitional Care Management Engine and Dashboard, Patient Engagement Modules, Secure Messaging Platform, Care Coordination Data Analytics/reporting and more.
Health BI helps its clients to:

Reduce Hospital Readmissions
Automate Existing Care Coordination Manual Processes
Coordinate Care for Large Population of Patients
Increase Care Coordination Team's Productivity
Communicate, Collaborate and Share Information
Enhance Transitional Care Management Services
About Health BI
Health BI is the leading developer of (SaaS) Care Transitions and Coordination Management Technology Solutions for the Population Health Management market. Health BI was created by a team of Health IT Innovators and physicians to fill the need for tools that enable healthcare providers and payers to improve patient care while reducing penalties and costs. At Health BI, we envision a healthcare system that proactively engage, monitor and navigate patients through the continuum of care and we have built software solutions and services to support this new model of healthcare delivery. Health BI's HealthCollaborate™ Care Transition and Coordination Management System is an automated suite of products that enables providers and payers to coordinate, manage and monitor transition of care for patients from hospitals to multiple care settings.
About Western States Health-e Connection Summit
Since 2007, AzHeC has hosted an annual conference in Phoenix, the Western States Health-e Connection Summit & Trade Show, that brings together 300 to 400 health IT professionals, providers, vendors and consumers from the Western region for two days of presentations, networking and learning. The event also features a trade show with over 40 leading health IT vendors.