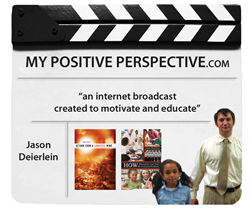 The Chase Challenge is a great event for local youth to attend and enjoy.
Charleston, SC (PRWEB) March 11, 2014
On March 10, 2014, My Positive Perspective broadcast an episode that featured guest Ben-Jamin Toy of On Purpose Adventures, adventure event planning services. Ben is a regular guest due to his Live On Purpose philosophy which is a must for having a positive perspective. Jason kicks off the show by announcing the start of season three. And Ben is quick to point out the changes to the studio, each season brings improvements with it and now, with a solid background, on-screen graphics can be enhanced. Ben, who has a radio show on Kinetic HiFI, follows Jason on Wednesday nights so being together in a studio is a natural fit for them.
Since Jason loves to promote positive events to the greater Charleston, SC community he asks Ben about the Chase Challenge ( Sat. April 19, 2014 11a-4p Wannamaker County Park http://www.ChaseChallenge.org). Ben describes the event as an adventure-based fundraiser benefiting the nonprofit organization Chase After A Cure which funds research for childhood cancer locally at MUSC and nationally. One adult and one child form a duo team competing at 15 stations (Three-legged race, corn hold toss, golf ball spoon relay, etc.) against other teams based on the child's age. The Chase Challenge was inspired from Ben's memories from elementary school competing in a similar event with his father. Total community involvement is the goal. Part of every sponsorship funds scholarships for deserving local children to participate at no cost to them or their parents. Children from the local Big Brother Big Sister organization and Communities in Schools will be the recipients of these scholarships and any child without an adult able to participate will be paired with a local firefighter representing the Lowcountry Firefighter Support Team. If you wish to sponsor teams and help out children both by attending the event and the resulting childhood cancer research, for just $100 you can sponsor 4 teams via the Good Sport option (http://bit.ly/PkZZWF).
Anyone can be involved in The Chase Challenge, Ben informs us. A business can sponsor the event or become an exhibitor (My Positive Perspective will have a booth there). They can just come to be spectators from 11am-4pm and watch the competition which begins at 1pm. And again they can sponsor teams for the triple win. There will be a vendor village and youth area for children not participating as well as an Easter Egg Hunt for children under 5. Ben asks if you will accept the challenge.
My Positive Perspective is a media outlet believing that improvement in our community will be best achieved by focusing on the good things happening in our world today. Having survived a near fatal car accident as a youth, a shift of perception forced one to have a mentality of always concentrating on the brighter sides of things. This was true, and in my book, Return From a Comatose Mind, this belief was put to the test. Appreciation for life was the biggest thing one took away from my brush with death, and it is because of that gives me such a huge desire to be helpful to many. My Positive Perspective is a way of overcoming challenges through positive thinking.