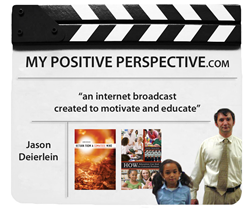 My life improved when I stopped chasing skinny.
Charleston, SC (PRWEB) March 18, 2014
March 17, 2014, My Positive Perspective aired the second episode in the internet show's third season. Host Jason Deierlein was joined by fitness instructor Stephanie Keenan. At the start of the episode, Deierlein says, "We both had the privilege of being featured in Oblique magazine; my story's topic was how fitness helped me regain many abilities that a car accident took away from me." Deierlein then turns to Keenan and asks, "What was the topic in your article?"
Keenan replies, "I wanted to feature a belief I have, to stop chasing skinny. Sometimes we are too cautious about how much we weigh and it actually can be hazardous to our health. A healthy weight varies on the individual and their metabolism." Deierlein then says, "I see and you have managed to turn this into a program that people can sign up for."
Keenan answers, "Yes, I worked as a defense contractor for five years and during that time I always wanted to be more involved in health and fitness so I pieced together a twelve week program. During that program you have access to downloadable pdfs that has clickable links to my downloadable videos. Each exercise has a video to go with it, and I also do high intensity interval training."
My Positive Perspective is a media outlet believing that improvement in our community will be best achieved by focusing on the good things happening in our world today. Having survived a near fatal car accident as a youth, a shift of perception forced one to have a mentality of always concentrating on the brighter sides of things. This was true, and in my book, Return From a Comatose Mind, this belief was put to the test. Appreciation for life was the biggest thing one took away from my brush with death, and it is because of that gives me such a huge desire to be helpful to many. My Positive Perspective is a way of overcoming challenges through positive thinking.