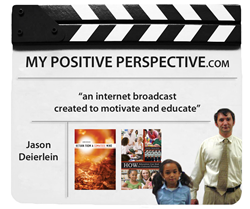 It was great hosting My Positive Perspective radio show for the last 19 months.
Charleston, SC (PRWEB) August 19, 2014
On August 18, 2014, My Positive Perspective broadcast an episode that reviewed some of the highlights of the nineteen months the radio show aired on Kinetic Hifi. My Positive Perspective host Jason Deierlein was joined by musician Ben Fagan for the episode. Deierlein begins the episode by saying, "We talked about the guest Brian Fleming, who was on duty in Afghanistan and blown up by a suicide bomber." Replying, Fagan says, "His story shows one how cruel people can be. It shows you why it is so important to think with a positive mind frame."
Deierlein then says, "Another guest I had on was Stephen Shrewsbury who wrote a book called Defy your DNA. He is working on ways to alter cells that are destined to have cancer and turn those traits off before birth. Going into the actual cells and telling the nucleus to produce a ribosome that will alter the cancer traits in cells."
Deierlein then mentions a final favorite guest when he says, "Kit Summers was a professional juggler from San Diego who actually won the Gong Show back in the early 80s. He was able to use the platform to get booked at some of the best hotels in Las Vegas. He was hit by a truck while walking back from a performance and was comatose for an extended amount of time and had to relearn things much like I had to. However, I could tell that it was doing him good just to talk to me and have somebody who had that in common with him." Fagan concluded the episode by saying, "Much of the processing vibe is just saying it out loud and talking to people who can really understand what you're going through."
My Positive Perspective is a media outlet believing that improvement in our community will be best achieved by focusing on the good things happening in our world today. Having survived a near fatal car accident as a youth, a shift of perception forced one to have a mentality of always concentrating on the brighter sides of things. This was true, and in my book, Return From a Comatose Mind, this belief was put to the test. Appreciation for life was the biggest thing one took away from my brush with death, and it is because of that gives me such a huge desire to be helpful to many. My Positive Perspective is a way of overcoming challenges through positive thinking.