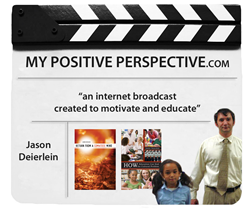 Baseball helps our youth learn and develop.
Charleston, SC (PRWEB) June 17, 2014
On June 16, 2014, My Positive Perspective aired an episode with baseball coach Jack Tracey and host Jason Deierlein. Tracy coached Deierlein when the two competed in an all star baseball tournament twenty five years ago. Deierlein starts off the episode saying, "It has been twenty five years since I've seen Mr. Tracey but it doesn't feel like any more than twenty five days. What was it like from your perspective coaching and watching us develop together?" Tracey smiles and replies, "Well it's just that, growing and developing; we played and competed against teams who probably took the sport more seriously than we did. However, my team competed hard and played well with each other."
Deierlein then says, "We were only ten years old at that time, but those moments served me well in helping to build a competitive spirit." Tracy then replies, "A lot of pressure for ten years old boys to compete at a high level, we were actually the B squad but we outperformed the A squad that year." Deierlein then says, "We had very good skills and we really maximized our skills during those games."
Deierlein then asks, "What are some of the benefits sports can have on young people?" Tracy replies, "When I was ten years old, you had to try out for a team so many kids didn't have the opportunity to play baseball so we had to play with each other. That cooperation is key to youth development."
My Positive Perspective is a media outlet believing that improvement in our community will be best achieved by focusing on the good things happening in our world today. Having survived a near fatal car accident as a youth, a shift of perception forced one to have a mentality of always concentrating on the brighter sides of things. This was true, and in my book, Return From a Comatose Mind, this belief was put to the test. Appreciation for life was the biggest thing one took away from my brush with death, and it is because of that gives me such a huge desire to be helpful to many. My Positive Perspective is a way of overcoming challenges through positive thinking.