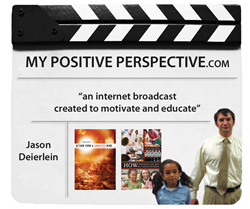 thanks to my therapists Stacey, Maria and Michelle
Charleston, SC (PRWEB) June 24, 2014
On June 23, 2014, My Positive Perspective ran an episode that marked the beginning of twenty years since My Positive Perspective host Jason Deierlein was in a tragic car accident. The accident left Deierlein comatose for seven weeks and caused him to have to relearn abilities many of us take for granted today. Joining Deierlein for the episode was trainer Libba Cocker who has been helpful in a continuing quest to regain abilities lost two decades ago.
At the start of the episode, Deierlein asks Cocker what are some of the things she has noted in their training sessions. Cocker responds, "Well we have only been working together for a few months, but the strength in your left side has improved tremendously as well as your balance. You're a really hard worker and it shows in the improvements you have been able to make."
Deierlein then replies, "Hard work in life never stops and that is one of the main points I try to get across to the students I manage to speak to. Not giving up after being in an adverse circumstance is a vital trait for us to have." Deierlein also took time to send out an important note of thanks to his therapists and friends who helped him while he was in rehabilitation. He said, "Maria, Stacey, and Michelle really helped put me in a position where I would be able to regain former abilities and I will be forever grateful to them. The tough position I was in twenty years ago was only able to be confronted by the kindness and professionalism by employees of Health South, the rehabilitation hospital I was admitted to.
My Positive Perspective is a media outlet believing that improvement in our community will be best achieved by focusing on the good things happening in our world today. Having survived a near fatal car accident as a youth, a shift of perception forced one to have a mentality of always concentrating on the brighter sides of things. This was true, and in my book, Return From a Comatose Mind, this belief was put to the test. Appreciation for life was the biggest thing one took away from my brush with death, and it is because of that gives me such a huge desire to be helpful to many. My Positive Perspective is a way of overcoming challenges through positive thinking.