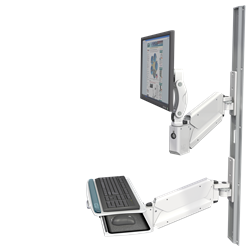 Designed for both comfort and flexibility.
Medford, OR (PRWEB) September 12, 2013
ICWUSA.com Inc., an industry leader in innovative healthcare, dental and IT mounting solutions, introduces the new MD12 wall-mounted monitor and keyboard arm. The new MD12 is a small-profile version of the popular MD series of wall mounts which are valued for their reach, adjustability and low profile stowage. ICWUSA created the space-saving design specifically for environments that demand flexibility in positioning, ease of use, strength and durability.
The MD12 is a slim, wall-mounted arm that extends 42" (106.68cm) at maximum reach and 22" (55.88 cm) of vertical movement enhancing positioning at the point of care. The entire workstation folds to a compact 11" (27.94cm) from the wall. This design requires only 2.5" (6.35cm) of wall space for mounting a complete workstation, making it the ideal choice for tight areas in today's hospital and clinical environments.
Designed for both comfort and flexibility, users are able to either sit or stand at the MD12 workstation. Convenient slide-out mouse trays on both sides of the keyboard tray enhance ease of use for both left and right-handed personnel. The MD12 is fully adjustable, providing an ergonomic workstation for people of any height.
The MD12, has a weight capacity of 35 lbs. which can hold any size monitor and keyboard, can be configured with either single or dual monitors integrated with the keyboard on a single arm. For even more flexibility, a two-arm configuration is available which gives the user freedom to move each device independently, supporting the productivity of healthcare providers.
This high-quality product is manufactured and assembled in the U.S. at our Medford, Oregon facility.
For more information about the MD12, contact the ICW representative in your area.