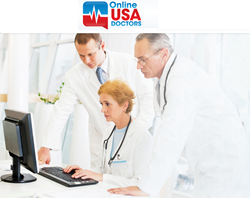 The new healthcare plans available from Online USA Doctors give small businesses a more cost effective way to provide healthcare coverage to employees
San Diego, CA (PRWEB) May 23, 2015
With the implementation of the Affordable Care Act, businesses, especially small businesses, are finding it increasingly difficult to provide their employees with a viable healthcare option. Those businesses which fail to provide adequate insurance for employees stand to face strict penalties. Never before has healthcare for businesses been such an integral part of a business's success or failure. In an effort to provide more affordable healthcare for businesses, Online USA Doctors has created a varying level of less expensive healthcare plans for employees and businesses alike, making healthcare management less confusing and arduous for small business owners.
The new healthcare plans available from Online USA Doctors give small businesses a more cost effective way to provide healthcare coverage to employees, acting as a front line to treat the more minor ailments that more often than not lead to huge insurance copays and rising premiums. With varying packages for employees to choose from, each at a fraction of large insurance provider premiums, employees can receive treatment for minor ailments and save the copays of their larger, much more expensive insurance providers, for treatment of major health issues. Most insurance companies will only pay a portion healthcare treatment, setting annual payment limits. Online USA Doctors allows patients to receive doctor consultation for non-emergency ailments without deducting from their major insurance payment limits.
Interested businesses looking for more effective healthcare management for their employees can simply visit http://www.OnlineUSADoctors.com and choose from a selection of comprehensive alternative healthcare for businesses, families, couples plans and individual healthcare plans. By providing a stipend or reimbursement for employees who may need treatment or consultation for minor ailments, employees can consult with a physician while small businesses can avoid the rising costs of insurance copays.
Online USA Doctors arranges the consultation between physician and patient, which can take place over the telephone, video communication software like Skype, or even via email, which makes healthcare management much simpler. Since there is no doctor's office to upkeep, Online USA Doctors can offer healthcare for businesses at a much lower cost for non-emergency health care, without compromising service. Once the patient/doctor relationship has been established, online doctors can address any concerns the patient may have, effectively deduce causes of ailments, write prescriptions for treatment, and even order laboratory testing for the patient. Only an online doctor can provide this much service to patients without health care insurance or those trying to avoid high copay costs for simple medical needs like checkups or physicals.
For those without health care insurance, or those unwilling to pay the often overpriced copays, Online USA Doctors provides an affordable health care option, allowing users from around the country to connect with licensed online doctors, and at a reasonable price. Once a doctor is selected, users simply decide which treatment plan best fits their situation, choosing from an individual plan starting at $9.99, a comprehensive online doctor plan starting at $49.99, a couple's plan for $19.99, or a family plan starting at only $29.99. Each plan is completely scalable, adjusting with the needs and wants of the patient.
To contact Online USA Doctors and learn more, simply visit http://www.OnlineUSADoctors.com or call toll free directly at 888- 315-9647.
About Online USA Doctors:
The creators of Online USA Doctors have successfully launched 5 urgent care clinics, in addition to advising multiple large hospital systems. The result of this level of experience culminated in the creation of the most advanced online medical treatment solution available today. Online USA Doctors allows patients across the nation to connect with physicians and specialists and receive the full range of medical services available from an emergency room or urgent care clinic, but at a fraction of the cost.
Online USA Doctors Contact Information:
Online USA Doctors
888 315 9647
Info(at)OnlineUSADoctors(dot)com