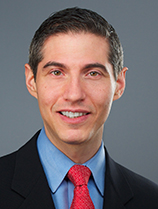 Telehealth offers a whole new way to deliver healthcare at a distance.
New York, NY (PRWEB) May 30, 2014
Moses & Singer LLP attorney Sam Servello, a partner in the firm's Healthcare practice, addressed an audience of over 100 in-person and webinar participants on May 15, 2014 on the legal issues related to telehealth, a part of a presentation by the New York State Bar Association. This emerging field concerns the use of electronic information and telecommunications to support long-distance clinical health, health-related education and health administration. It encompasses such technologies as video conferences, internet, live video, cell phones and remote patient monitors.
"Telehealth services can aid healthcare delivery in many ways," Sam noted. As an example, he quoted studies which found that a majority of US emergency departments suffer inadequate on-call coverage by specialists, with a substantial number of poor outcomes associated with lack of specialist availability. "Telemedicine – the delivery of off-site clinical services via electronic means - is helping alleviate this shortage." Sam further noted the need for increased home telehealth and remote monitoring of post-discharge and chronically ill patients.
"Although the market projects telehealth to grow rapidly, legal barriers exist based on old assumptions," Servello observed. Traditional licensing laws, for example, assume face-to-face healthcare delivery. Telehealth opens the door to service delivery at a distance, including across state lines with differing medical boards, regulations, licensing requirements and malpractice standards.
Both payors and practitioners will need to address reimbursement issues as well for these services. Medicare, Medicaid and private payors apply different definitions and requirements. Some payors may be reluctant to cover new technologies and service expansions but others may encourage this as a way to avoid costlier care.
"New technologies may not fit old rules," Sam concluded. Any healthcare group considering telehealth services needs to understand the impact on its business model and legal structure before launching this offering.
------------------------------------------
Sam Servello is a partner in the Healthcare practice at Moses & Singer LLP, a New York-based law firm established in 1919, serving prominent businesses, families and individuals in their commercial and personal needs. For complete disclaimer information, please visit the firm's website.