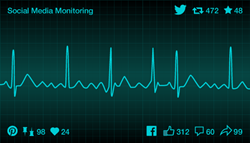 Troy, NY (PRWEB) August 28, 2014
Healthcare marketing agency Smith & Jones released a new issue of Protocol, titled "Social Checkup: Take the Vitals of your Hospital's Social Media Policy." Accessible at smithandjones.com, this marketing report for c-level hospital executives and practice administrators discusses the implications of social media policies.
Many healthcare organizations developed a social media policy when they first created a Facebook page or Twitter account, but haven't looked at it since. Others may have discussed a policy, but never put it in writing. Developing and enforcing a social media policy is somewhat like walking a tightrope. On the one hand, rules about legal compliance will protect the organization, but too much restriction on what can be said can stifle creativity and genuine conversation.
"The balance is to develop a policy that focuses on the big picture, instead of the day to day tasks," said Mark Shipley, Strategy Director and Co-founder of Smith & Jones. "Overall goals and brand values are enough to guide content without having to dissect individual posts or campaigns. This level of trust in staff empowers social engagement instead of hindering it."
This issue of Protocol discusses five topics that should be broached when developing a social media policy for a hospital or physician practice. Included topics are: education and training, engaging internal audiences, how to respond to negative comments, HIPAA compliance and entertaining content.
Access "Social Checkup: Take the Vitals of your Hospital's Social Media Policy" and join our email list for notifications of future publications at: http://www.smithandjones.com.
About Smith & Jones
Smith & Jones is a healthcare marketing agency based in Troy, NY, that specializes in marketing for hospital systems and large physician practices. Learn more at http://www.smithandjones.com.