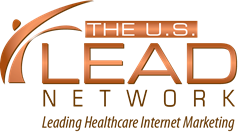 Top healthcare internet marketing firm US Lead Network is including logo and graphic design free for all new clients!
Phoenix, AZ (PRWEB) March 03, 2014
Top healthcare internet marketing firm, US Lead Network, is now offering complimentary logo design and graphic design to all new clients. The firm achieves excellent rankings for all specialty medicine clients while producing websites that are aesthically pleasing and full of pertinent educational material for prospective patients. Call (877) 791-6466 for more information and a free consult with the company owner, Dr. Greene.
US Lead Network was founded by an doctor who achieved eighty percent patient acquisition online. The same techniques from his experience are used for clients of the firm. The company maintains several graphic designers, developers and a team of content writers producing the type of educational material the search engines love.
Two types of campaigns are offered by US Lead Network. One involves fixed fee campaigns for clients such as orthopedic surgeons, pain management clinics, chiropractors, fertility doctors, podiatrists, dentists and all types of specialty medical practices.
In addition, US Lead Network provides campaigns for lead generation as well. This type of campaign involves pay for performance internet marketing for practices.
Medical practices are able to acquire a significant amount of new patients online with proper website aesthetics and coding. With a firm started and managed by an MD, practices are offered turn key solutions that are worry free.
Said CEO David Greene, MD, "Practicing doctors don't have time to manage online campaigns, but they are extremely important. This is why it's best to have a top healthcare internet marketing firm like US Lead Network set up and maintain the campaign!"
All logo design and graphic design is included for new clients, and the firm is offering complimentary 30 minute phone consultations as well. Call (877) 791-6466 for more information on trusted medical marketing.