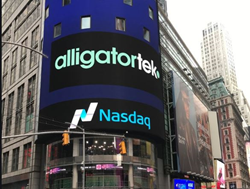 We celebrate a milestone today as we join the HealthChampion team, pushing the boundaries of digital health innovation.
CHICAGO (PRWEB) April 21, 2020
HealthChampion, a digital health analytics company and creator of the world's first consumer-driven health platform, today announced it will be acquiring alligatortek, an award-winning software development company and Microsoft partner, also headquartered in Chicago.
alligatortek delivers bespoke software development built on a cloud technology stack. Its innovative solutions address process bottlenecks to improve efficiency, productivity and the bottom line for clients. The acquisition will serve to strengthen HealthChampion's position and enhance its ability to rapidly deploy expanded remote care and data analytics to consumers and B2B partners. As demand for remote health monitoring and analytics solutions continues to increase, the initiative provides HealthChampion with an additional 60 resources and moves the company to a global delivery model, scaling the talent and technology it needs to accelerate its mission.
HealthChampion empowers users to automatically gather and securely share their data with doctors, nurses, therapists, trainers, loved ones and other caregivers to improve health outcomes. With increased health risks, including COVID-19, it's more important than ever to get the data to the right people at the right time.
"Over the last two decades, alligatortek has built a leading development team, one that has been recognized as Partner of the Year by Microsoft," said Terrence M. Ryan, CEO of HealthChampion. "This acquisition will bolster our product development efforts, enabling us to accelerate data-driven health insights for consumers and businesses in response to strong market demand for our offering."
Sid Bala, CEO of alligatortek, will be joining HealthChampion's board of directors and will be in charge of the integration. In his new role, he will oversee strategy and help drive further innovation across the organization.
"We celebrate a milestone today as we join the HealthChampion team," said Bala. "We will draw on our decades of experience to push the boundaries of digital health innovation and remain focused on delivering outstanding technology, capabilities and service to the healthcare industry."
The deal is expected to close in the near future, subject to customary closing conditions.
To register for HealthChampion's app visit this link, or click here for info for your business.
About HealthChampion
It's your health. Own it. HealthChampion is a leading digital health analytics company and the creator of the world's first consumer-driven health platform and mobile app. We believe people deserve to easily access, manage, and securely share their health data with professionals and loved ones alike. Our platform provides a comprehensive view of health data for providers and individuals, as well as personalized tools and recommendations driving increased engagement. By reshaping the way data is used, leveraging today's technologies, we are creating a fundamental shift to the healthcare ecosystem. For more information, visit https://myhealthchampion.com.
About alligatortek
For over 25 years, alligatortek has partnered with clients to build enterprise software applications. Its extensive portfolio includes the design and construction of software solutions to meet the needs of its global clients and their stakeholders. With a strong focus on identifying bottlenecks in business processes, the company brings deep industry knowledge and expertise to every project, enabling its team members to quickly identify and design solutions for unique business challenges. A Microsoft Gold Managed Partner, alligatortek was the winner of the Microsoft Partner of the Year Award in the category of Innovative Technology for Good Citizenship. The firm is a two-time recipient of the Chicago Innovation Awards for its game-changing solutions. alligatortek has received elite recognition for four consecutive years by the 101 Best and Brightest Companies to Work For and was listed as one of the Top 50 Employers for Gen Y Emerging Talent. To learn more, visit https://alligatortek.com/