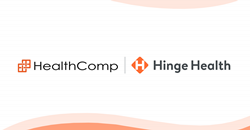 As our clients look to address high-spend areas and offer a better experience to their members, Hinge Health is a great addition to their benefits.
SAN FRANCISCO (PRWEB) November 10, 2020
HealthComp announces today a partnership with Hinge Health, the #1 Digital Musculoskeletal (MSK) Solution for employers and health plans, as their preferred digital MSK solution. As the only solution with 4 peer-reviewed clinical studies, Hinge Health's Digital MSK Care Pathways have repeatedly proven a direct reduction of chronic pain, depression, anxiety, and utilization of elective surgeries. This new partnership provides HealthComp's 400,000 members a preferred partner to address high MSK spend with Hinge Health's digital MSK clinic treating back and joint pain and covering the entire care continuum from prevention, acute, chronic pain, pre & post-surgery, as well as expert medical opinion.
"We are excited to expand our partner ecosystem and offer a digital MSK solution through Hinge Health," said Keri Dixon, Executive Vice President of Product and Account Management at HealthComp. "HealthComp acts as the centralized hub for our client's benefits offerings, and our goal is to create a seamless experience that brings together all the pieces of the benefits 'puzzle', ultimately driving employee engagement and better health outcomes. As our clients look to address high-spend areas and offer a better experience to their members, Hinge Health is a great addition to their benefits."
To help individuals conquer their chronic MSK pain, Hinge Health pioneered a digital MSK solution using a three-pillared approach combining exercise therapy, a complete clinical team with behavioral coaching, and education that collectively improve chronic pain, mental health, and surgery intent. In a recent 10,000+ participant study, engagement in Hinge Health's care pathways averaged 73%, which is 3x higher than the industry benchmark. By adding Hinge Health as a digital MSK benefits offering, HealthComp's self-funded employers who select Hinge Health will provide their members with best practice MSK treatment anywhere, at any time. Now with Hinge Health's expansion to cover the entire MSK care continuum, Hinge Health will be able to provide even more value to HealthComp's accounts through this partnership.
"We are excited to partner with HealthComp to provide their members with best practice MSK care from the comfort of their homes. Our sensor-guided exercise therapy paired with remote 1-on-1 PT, health coaching, and personalized education has been proven to result in more effective outcomes for participants than surgery or pain medications," said Hinge Health CEO and co-founder Daniel Perez.
HealthComp decided to partner with Hinge Health in order to provide an even better member and client experience and easy, seamless client implementations. With Hinge Health, HealthComp enables employers across the country to improve the MSK health of their members from prevention to post-operative care, reduce anxiety and depression related to chronic pain, and drive measurable cost savings by digitally delivering best practice MSK care to reduce pain and surgeries.
About Hinge Health
Hinge Health is pioneering the world's most patient-centered Digital Clinic for back & joint pain. Our Digital Clinic is the #1 MSK solution for employers and health plans. Available to nearly 200 enterprise customers, Hinge Health empowers people to reduce chronic pain, opioid use and surgeries. Learn more at http://www.hingehealth.com
About HealthComp
For more than 35 years, HealthComp Holdings has been dedicated to transforming benefits management into an experience that employees and employers love. Bringing together concierge-level service, operational excellence, powerful analytics and cost management, we've built a solution that integrates seamlessly with any benefits ecosystem. HealthComp has offices in California, Illinois, Pennsylvania and West Virginia. Visit http://www.healthcomp.com.