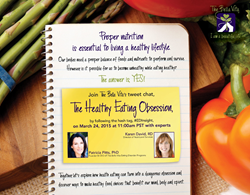 Los Angeles, CA (PRWEB) March 09, 2015
The Bella Vita, one of the nation's leading treatment centers for eating disorders, including anorexia, bulimia and binge eating, will host a Twitter chat from 11 am to 12 pm Pacific time on Tuesday, March 24th with Patricia Pitts, PhD, the center's Founder and CEO, and Karen David, RD, the center's Director of Nutritional Services. The subject for the chat, "The Healthy Eating Obsession," is designated by the hashtag #EDinsight. Participants can follow the chat on any web chat application such as http://www.tweetchat.com.
The Bella Vita's Dr. Pitts and David has treated and guided thousands of patients on the path back to wellness. "There are patients who have walked through our doors confused as to how or why they needed treatment for an eating disorder; in their minds all they believe is that, 'I eat pure and clean! Hey, I don't have a problem. We are supposed to eat healthy!" explained David. The issue is not in eating healthy; it's in obsessively eating healthy.
The obsession of healthy eating can lead to orthorexia nervosa. In 1997, Steve Bratman, MD coined the term, from the Greek words: "ortho" (correct, right), orexis (appetite, desire), from his personal struggles with healthy eating. Someone struggling with orthorexia has a, "maniacal obsession for healthy food." The disorder parallels anorexia nervosa where orthorexics will restrict themselves and focus only on eating foods of high quality – foods that are "pure" and "clean."
Dr. Pitts has experienced similar patient sharing during eating disorder treatment, "To someone with orthorexia, the change in eating behaviors initially begins with good intention. There is a desire to eat and be healthy. Sadly, the compulsion becomes greater than the intention; thus, exposing underlying psychological dynamics such as: a need for control, increase in anxiety, poor body image and ultimately, low self-worth."
During the tweet chat, Dr. Pitts and David will provide clinical and nutritional insight on how healthy eating becomes obsessive while inspiring hope towards wellness for those struggling with orthorexia. Dr. Pitts explained, "I understand the orthorexic's struggles; I have lived my own eating disorder journey. I firmly believe that each individual with an eating disorder is already whole. Their eating disorder protects them from uncovering missing pieces in their lives. I am honored to walk beside our patients as they discover that they can live fulfilled lives without their eating disorder behaviors." Pitts concluded, "Together, we can embrace those missing pieces to find freedom from their eating disorder. Their freedom leads to reestablishing a healthy self-esteem and fostering positive relationships with others, body image, and food."
About The Bella Vita.
The caring staff at The Bella Vita understands the complexities of eating disorders (ED) and why so many inevitably turn to food or turn away from food as a means of coping with life's everyday challenges. We guide our patients through a myriad of seemingly insurmountable obstacles associated with ED helping to uncover the connections between food and life that result in a decline in physical and mental health.
We believe that someone's struggle with anorexia nervosa, bulimia nervosa, binge eating disorder, disordered eating and co-occuring disorders is unique, just like them. To meet their unique needs, we create individual treatment plans and offer various levels of CARF accredited care in Los Angeles, Woodland Hills, Santa Clarita, La Canada Flintridge and Thousand Oaks that enables our diverse clinical team to restore their mind and body to optimal health and wellness.
As we have seen with our thousands of patients – females, males, adolescents, adults and all ethnicities, they can live a fulfilled life without their eating disorder behaviors. Together, we will work beside a patient as they put the pieces of their life back together!
For more information, visit http://www.thebellavita.com or call the 24/7 help line at 818-585-1775 for program and admissions questions or to schedule a confidential assessment with a therapist with advanced training and specialization in the diagnosis and treatment of eating disorders.
For media inquiries, please contact Melissa Moss at 323-255-0400, x121.