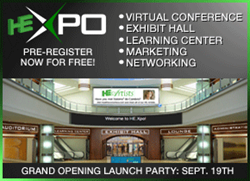 HE-Xpo Virtual Conference and Tradeshow captures the true look and feel of actually being at a traditional, "real-world" tradeshow, all from the comfort of a participant's home or office, and accessible from smartphones or tablets.
Ponte Vedra Beach, FL (PRWEB) August 21, 2013
HE-Xpo, the first virtual conference and tradeshow for both attendees and exhibitors involved in health outcomes, healthcare market access, pricing, reimbursement, and health information technology, is now open for free pre-registration for the HE-Xpo Grand Opening, September 19th, 2013. Registration is required to participate in HE-Xpo but will remain free for all attendees.
Sponsored and marketed by HealthEconomics.Com, the global leader on healthcare value and market access, the HE-Xpo Grand Opening Launch Conference for the pharmaceutical and healthcare industry will be held from 8:00 am to 12:00 pm eastern time on September 19th. Attendees who pre-register to this inaugural event and all future virtual conferences can participate from their computer, smart phone, or tablet.
HE-Xpo employs cutting-edge technology, allowing interactive engagement in timely and informative conference events and webinars from industry leaders every hour. Topics for the September 19th Grand Opening Launch will include pharmaceutical pricing and reimbursement, comparative effectiveness research, healthcare payer marketing, patient reported outcomes, and pharmaceutical market access. Additional learning tools will also be available, including industry white papers, slide presentations, networking opportunities, free gifts, exhibit hall, and more.
A recent survey conducted by HealthEconomics.Com found 83% of respondents working within the pharmaceutical and healthcare industries reported their employers had reduced travel to live conferences, educational events, and other learning opportunities. Virtual conference and tradeshow options like HE-Xpo address this reality of today's business and economic environment, while still allowing individuals to stay abreast of essential learning and networking opportunities.
HE-Xpo Virtual Conference and Tradeshow captures the true look and feel of actually being at a traditional, "real-world" tradeshow, all from the comfort of a participant's home or office, and accessible from smartphones or tablets. HE-Xpo offers virtual rooms such as the Auditorium, Learning Center, Exhibit Hall and Social Media Lounge. Attendees easily move through virtual aisles and from booth to booth comparing products and services.
Once at an Exhibitor's booth, attendees can review and download promotional materials, watch a variety of informational and educational videos, review the Exhibitors Website and/or chat live with Exhibitor staff members, sales personnel or product specialists. Attendees can also participate in live events, such as webinars with streaming video, presentations, Q&A, audience polling and more.
Exhibitors can build booths that appear highly realistic, allowing visitors to interact with company representatives using chat tools, as well as download scientific and marketing literature.
"We created the virtual conference environment, HE-Xpo, to specifically target the Health Economics and Outcomes Research (HEOR) and Managed Markets audience. Our goal was to address the needs of businesses looking for more efficient, cost-effective and 'green' solutions to attending traditional tradeshows. HE-Xpo answers those needs with a rich, interactive user experience that leads to higher engagement with potential customers, while also creating a sense of community," said Dr. Patti Peeples, President and Founder of HealthEconomics.Com. "Attendees can participate in cutting-edge and current learning opportunities from anywhere in the world, right from the comfort of their own home or office, and still experience all the benefits of real-world conferences. HE-Xpo eliminates travel costs at a time when many companies are limiting spending for attending conferences, and reduces time away from the office. We're excited to offer this ground-breaking service, the first of its kind for HEOR professionals across the world."
Companies interested in obtaining their own virtual booth for the HE-Xpo Grand Opening Launch Party on September 19th may contact Leslie Fine, HE-Xpo Marketing Manager.
About HealthEconomics.Com (http://www.healtheconomics.com):
A pioneer in the field, HealthEconomics.Com is the global authority in healthcare value and pharma market access. Each day, HealthEconomics.Com compiles the latest news, policy updates, resources, conferences, and jobs for BioPharma's professionals involved in health economics, outcomes research, market access, and pricing. A trusted resource, HealthEconomics.Com's comprehensive content is carefully selected by a discerning health economist editor, making it the most visited website for healthcare value and market access in the industry, with visitors encompassing all corners of the globe.
News Media interested in receiving the most current information on healthcare value and market access may obtain a free subscription to HealthEconomics.Com by visiting the site or by subscribing to the HealthEconomics.Com Newsletter.