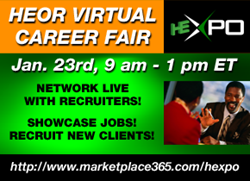 Ponte Vedra Beach, FL (PRWEB) December 18, 2013
Registration is now open for Attendees and Exhibitors for the 1st virtual online jobs-focused event, the HE-Xpo® HEOR Career Fair to be held January 23, 2014, sponsored by HealthEconomics.Com.
The HEOR Career Fair in HE-Xpo® - will run from 9am-1pm ET on January 23, 2014. Exhibitors, job seekers, and employers can interact in a virtual, web-based environment, to showcase jobs, exchange resumes, conduct interviews through real-time chat, and learn effective interview techniques. Online presentations, webinars, and podcasts will be accessible, covering career options in HEOR and the pharmaceutical industry, as well as job search tips and opportunities for career growth. By visiting the Exhibit Hall, attendees can view booths by many major healthcare and pharmaceutical organizations such as Boehringer Ingelheim, Covance, Klein Hersh Executive Recruiters, McKesson Specialty Health, Xcenda, Archimedes Inc., HealthEconomics.Com, and PRMA. Major academic programs such as the University of Florida Applied Pharmacoeconomics Graduate Program and the Thomas Jefferson University Master of Science in Applied Health Economics and Outcomes Research Program will, through their exhibitor booths, provide information on career expansion in the pharmaceutical market access area, as well as promoting their graduate school programs.
Dr. Patti Peeples, President and Founder of HealthEconomics.Com said, "I'm particularly excited by our 2nd event in HE-Xpo®, the HEOR Career Fair. I think it is one of the best uses of a virtual environment to network with job seekers and employers, as well as offering learning opportunities on the explosive career growth options for individuals in the health economics, health policy and health information technology arena."
Dana Minyard, Director of Information Technology for HealthEconomics.Com added: "This kind of technological advance allows HealthEconomics.Com to fulfill our mission of a Connected Community, bringing together colleagues from across the globe to further their education through a wealth of shared resources, and networking opportunities. I encourage all to visit HE-Xpo®, register for free, and take a virtual 'walk' around the Exhibit booths, Lounge, and Learning Center."
The HEOR Career Fair will take place in HealthEconomics.Com's ground-breaking Virtual on-line tradeshow and marketplace arena: HE-Xpo®. HE-Xpo® is focused on the pharmaceutical industry and health payer audience, most specifically directed toward health economics and outcomes research (HEOR) professionals, as well as those involved in pharma pricing, payer marketing, health technology assessment (HTA), reimbursement, health informatics, and health information technology. HealthEconomics.Com, the global leader in healthcare value and market access, is the developer, sponsor, and marketer of HE-Xpo®, which runs on the Marketplace365® platform from Onstream Media Corporation. HE-Xpo® delivers the look and feel of a traditional, real-world Tradeshow and Career Fair, but through cutting-edge technology, is entirely virtual and accessible online from the home or office, using a desktop, tablet, or mobile device.
HE-Xpo® was launched by HealthEconomics.Com on September 19, 2013, and since then has exceeded expectations for attendees and exhibitors from the pharmaceutical and biotechnology HEOR audience. Garnering more than 500 visitors to the virtual tradeshow and marketplace, HE-Xpo® is available continuously, 24 hours a day, 7 days a week, 365 days a year by registering at this URL: http://www.marketplace365.com/hexpo. HE-Xpo® offers the opportunity to experience continuous learning and networking opportunities, online, at the visitor's convenience, from anywhere in the world, at any time.
Virtual events like the HE-Xpo® HEOR Career Fair are fast becoming not only useful, but essential in today's economic environment. A recent survey by HealthEconomics.Com found that 83% of respondents working within the pharmaceutical and healthcare industries reported that their employers had reduced employee travel to live conferences, educational events, and other learning opportunities.
For information about participating in HE-Xpo® as an exhibitor and sponsor, contact Leslie Fine, HE-Xpo® Marketing Manager at leslie(at)healtheconomics(dot)com.
About HealthEconomics.Com (http://www.healtheconomics.com):
A pioneer in the field, HealthEconomics.Com is the global authority in healthcare value and pharma market access. Each day, HealthEconomics.Com compiles the latest news, policy updates, resources, conferences, and jobs for BioPharma's professionals involved in health economics, outcomes research, market access, and pricing. A trusted resource, HealthEconomics.Com's comprehensive content is carefully selected by a discerning health economist editor, making it the most visited website for healthcare value and market access in the industry, with visitors encompassing all corners of the globe.
News Media interested in receiving the most current information on healthcare value and market access may obtain a free subscription to HealthEconomics.Com by visiting the site or by subscribing to the HealthEconomics.Com Newsletter.