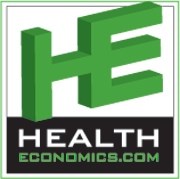 This kind of technological advance allows HealthEconomics.Com to fulfill our mission of a Connected Community.
Ponte Vedra Beach, FL (PRWEB) October 14, 2013
The first virtual pharma conference and tradeshow, HE-Xpo®, was launched in late September, 2013 for the health outcomes, healthcare market access, pricing, reimbursement, and health information technology audience. HealthEconomics.Com, the global leader in healthcare value and market access, is the developer, sponsor, and marketer of HE-Xpo® , which runs on the Marketplace365® platform from Onstream Media Corporation. Since the September 19, 2013 HE-Xpo® launch , there have been more than 250 visits to the virtual conference, representing major healthcare and pharmaceutical organizations such as Eli Lilly, GlaxoSmithKline, Baxter International, Rite Aid, AmeriSourceBergen Corp., and the Academy of Managed Care Pharmacy. Exhibitors and conference sponsors included healthcare consulting groups such as Evidera, Xcenda, McKesson Specialty Health, Archimedes Inc., and academic programs such as the University of Florida Applied Pharmacoeconomics Graduate Program and the Thomas Jefferson University Master of Science in Applied Health Economics and Outcomes Research Program, among others.
In a survey of participants and exhibitors conducted by HealthEconomics.Com after the launch of HE-Xpo®, more than two-thirds of respondents indicated that they were satisfied with the HE-Xpo® experience, and 85% said they would definitely attend another HE-Xpo® event in the future. Because the platform is web-based and virtual, HE-Xpo® is available continuously, 24 hours a day, 7 days a week, 365 days a year by registering (for free) at this URL: http://www.marketplace365.com/hexpo. HE-Xpo® is the only virtual conference service of its kind for the health outcomes community, allowing researchers, policy-makers, and academicians to experience the true look and feel of actually being at a traditional, "real-world" industry conference, all from the comfort of a participant's home or office. In the user satisfaction survey, respondents rated the ability to attend a meeting from their computer as the most important benefit of HE-Xpo®, followed by the ability to attend for as long as they desired, and their interest in a new technology platform.
HE-Xpo® offers educational events such as live presentations or webinars (live or archived), industry white papers, slide presentations, as well as networking opportunities and live chat. These tools are accessible throughout HE-Xpo® by searching key words or topics such as pharmaceutical market access, comparative effectiveness research, drug pricing and reimbursement, patient-reported outcomes, health reform, and more. Within HE-Xpo® , attendees can peruse virtual rooms such as the Auditorium, Learning Center, Exhibit Hall and Social Media Lounge. Within the Exhibit Hall, attendees can move through virtual aisles and from booth to booth comparing products and services.
A recent survey by HealthEconomics.Com found that 83% of respondents working within the pharmaceutical and healthcare industries reported that their employers had reduced employee travel to live conferences, educational events, and other learning opportunities. Virtual conference and tradeshow options like HE-Xpo® address this grim reality of today's business and economic environment, while still allowing individuals to stay abreast of critical learning and networking opportunities. Dr. Patti Peeples, President and Founder of HealthEconomics.Com said, "We were delighted with the successful launch of HE-Xpo® for the HEOR and health policy community. The value of HE-Xpo® was evident because >60% of attendees spent between 30 minutes to 4 hours within the virtual environment visiting the Exhibit Hall, viewing Webinars, and interacting with colleagues. This kind of technological advance allows HealthEconomics.Com to fulfill our mission of a Connected Community, bringing together colleagues to further their education, access to resources, and networking opportunities."
For information about participating in HE-Xpo® as an exhibitor and sponsor, contact Leslie Fine, HE-Xpo® Marketing Manager at leslie(at)healtheconomics(dot)com.
About HealthEconomics.Com (http://www.healtheconomics.com):
A pioneer in the field, HealthEconomics.Com is the global authority in healthcare value and pharma market access. Each day, HealthEconomics.Com compiles the latest news, policy updates, resources, conferences, and jobs for BioPharma's professionals involved in health economics, outcomes research, market access, and pricing. A trusted resource, HealthEconomics.Com's comprehensive content is carefully selected by a discerning health economist editor, making it the most visited website for healthcare value and market access in the industry, with visitors encompassing all corners of the globe.
News Media interested in receiving the most current information on healthcare value and market access may obtain a free subscription to HealthEconomics.Com by visiting the site or by subscribing to the HealthEconomics.Com Newsletter.