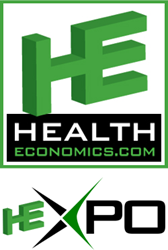 We know that 85% of our audience has experienced reduced travel budgets, and the HE-Xpo® virtual arena is the perfect solution.
Ponte Vedra Beach, FL (PRWEB) February 11, 2014
The first-ever virtual jobs fair targeted toward health economics and outcomes research (HEOR) professionals within the pharmaceutical, health insurance, and biotechnology arena was held on January 23, 2014 from 9am-1pm ET, using the innovative HE-Xpo® virtual tradeshow platform. The HE-Xpo® virtual tradeshow environment is provided by HealthEconomics.Com, the global leader in providing a Connected Community™ experience for individuals involved in pharmaceutical pricing, healthcare value assessment, and market access. HealthEconomics.Com also provides a website portal of resources, news, conferences, podcasts, and jobs, and is the only provider of a completely virtual conference experience for the life sciences HEOR market.
The recently-held HEOR Career Fair in HE-Xpo® exceeded expectations for visitors and exhibitors, with more than 400 registrants and 15 exhibitors. Exhibitors and conference sponsors included major global pharmaceutical companies (Novartis, Boehringer Ingelheim), Executive Recruiters (Klein Hersh International, Carrot Pharma), major contract research organizations (Covance), healthcare consulting organizations (Evidera, Xcenda, PRMA, Double Helix, Mapi, Creativ-Ceutical, Boston Health Economics), Specialty Pharma companies (McKesson), as well as University Graduate Programs or Teaching Groups (Thomas Jefferson University, University of Florida, and the European Market Access University Diploma group). Job Seekers visited the HE-Xpo® HEOR Career Fair online from all over the globe.
In a survey of participants and exhibitors conducted by HealthEconomics.Com after the HEOR Career Fair, 83% of respondents were satisfied with the virtual jobs event, and 94% of exhibitors thought the Virtual Career Fair was a positive recruiting tool. Interest in attending future HE-Xpo events was exceptionally high: 89% said they possibly or very likely would attend another virtual event in HE-Xpo®. Ninety-two percent thought the HE-Xpo® Exhibit Hall was the area of most interest and received the greatest attendance, while more than one-half visited the Learning Center to download educational materials from exhibitors and other sources. Almost all participants utilized the online chat tool to interact with each other and network with hiring companies.
Dana Minyard, Director of Information Technology for HealthEconomics.Com said, "We know that 85% of our audience has experienced reduced travel budgets, and the HE-Xpo® virtual arena is the perfect solution that allows access to education, resources, jobs, and education in a rich, multi-media online environment, 365 days a year, 7 days a week, 24 hours a day, regardless of location. The visual experience, coupled with online chatting and networking opportunities, is really extraordinary and this is wave of the future."
Dr. Patti Peeples, President and Founder of HealthEconomics.Com, remarked, "HealthEconomics.Com continues to provide cutting edge technology to fulfill our mission of a Connected Community™, bringing together high-caliber job seekers with top-ranked pharma market access and HEOR groups who are looking for talent. We were delighted with the successful launch of HE-Xpo® for the pharma pricing, reimbursement, and health policy community."
Almost 40% of participants spent up to 4 hours in HE-Xpo®, visiting exhibit booths, watching educational videos, or networking. Another 40% spent between 1 and 2 hours. The highest rated reasons for attendance at the HEOR Virtual Career Fair in HE-Xpo® was the ability to attend from the computer without traveling, ability to network, and the flexibility to attend the virtual event for as long as the participant wanted.
Future HE-Xpo® Virtual Meetings include Observational Research Trends and Issues, as well as another HEOR Career Fair Spring 2014. For information about participating in HE-Xpo® as an exhibitor and sponsor, contact Leslie Fine, HE-Xpo® Marketing Manager at leslie(at)healtheconomics(dot)com.
About HealthEconomics.Com (http://www.healtheconomics.com):
A pioneer in the field, HealthEconomics.Com is the global authority in healthcare value and pharma market access. Each day, HealthEconomics.Com compiles the latest news, policy updates, resources, conferences, and jobs for BioPharma's professionals involved in health economics, outcomes research, market access, and pricing. A trusted resource, HealthEconomics.Com's comprehensive content is carefully selected by a discerning health economist editor, making it the most visited website for healthcare value and market access in the industry, with visitors encompassing all corners of the globe.
News Media interested in receiving the most current information on healthcare value and market access may obtain a free subscription to HealthEconomics.Com by visiting the site or by subscribing to the HealthEconomics.Com Newsletter.