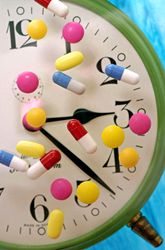 Studies have shown that the scent of lavender has helped patients with insomnia to fall asleep.
FORT LEE, New Jersey, (PRWEB) September 20, 2013
A new blog from Marble Media LLC's HealthFill.com medical blog site reports that more than 9 million Americans use sleeping pills to get their eight hours in each night, and physicians are cautioning patients to find natural alternatives to curing sleeplessness. Titled, "CDC Report Finds 9 Million Americans Rely on Sleeping Pills", the blog, dated September 15, 2013, guest blogger Liz Ernst suggests people suffering from insomnia try alternative methods to lull the body and brain to sleep naturally.
According to the CDC report, released in August of 2013, the majority of people who regularly use sleep medications are white, educated women, many over age 50. According to the study's authors, many sleep medications have been shown to have a number of side effects, which has physicians cautioning against the use of pills sleeping pills, especially for prolonged periods of time.
"Many people are unaware of the healthier options available to them to promote sleep," Ernst says. "But with a little trial and error, weaning themselves off of sleep medications can help patients shed the side effects that go with sleeping pill use, and save a significant amount of money while they're at it."
Some patients have benefitted from behavioral therapy, a practice in which the therapist learns to recognize the patient's habits and internal issues that may be behind their inability to sleep, and make recommendations based on their findings. Some commonly used methods include keeping a journal, getting out of bed after 20 minutes of tossing and turning to take a warm bath or read a book, both of which are famous sleep inducers.
"Turn off any bright lights a few minutes before you plan to go to bed, as light may increase the amount of time it takes the brain to fall asleep," Ernst says. "That includes light from a computer or television."
Proper exercise, lowering caffeine intake throughout the day, and avoiding alcohol and smoking can help patients return to a regular rhythm of falling asleep shortly after laying down.
"Changing some things about your bedroom may help to change the mind's perceptions," Ernst says. "If all else fails, you might want to try aromatherapy, sleepy-time tea, or a melatonin supplement to encourage sleep.
"Studies have shown that the scent of lavender has helped patients with insomnia to fall asleep, while others have sworn by melatonin, which works best when taken a few hours before bedtime."
For more information on sleeping pill use and natural methods for getting to sleep, visit the HealthFill.com website or email info(at)healthfill.com.
About Marble Media LLC:
Marble Media LLC is a creator of high-quality, content-rich blog sites that provide expansive coverage of relevant information to readers who make up a wide range of demographics. The Marble Media LLC team of expert writers covers a wide range of specialties including travel, food, health, fitness, social media, marriage, parenting, technology, weight loss, fashion and much more.
For more information on Marble Media LLC's offerings and advertising opportunities, visit the MarbleMediaLLC.com website, or email sales(at)marblemedia.com.
###