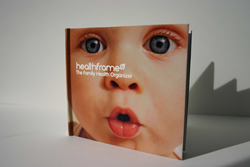 HealthFrame™ 3.0 includes enhanced customization and search technology that delivers relevant healthcare content and services.
Sudbury, Massachusetts (PRWEB) June 01, 2016
Records For Living, Inc. announced the availability of HealthFrame™ 3.0 -- a consumer-controlled personal health record management system and service portal. HealthFrame™ 3.0 supports all aspects of health and wellness management by allowing consumers to track their health and care records, expenses, access consumer-oriented medical reference and decision support information, and improve the quality of the health services they receive.
"For over a decade, our customers have used HealthFrame™'s built-in tools and reference library to take charge of their health management," says Simone Pringle, president of Records For Living, Inc. "HealthFrame™ 3.0 includes enhanced customization and search technology that delivers relevant healthcare content and services."
HealthFrame™ 3.0 Features
HealthFrame™ 3.0 helps consumers by consolidating information related to their health and medical care and providing powerful decision support tools to optimize their health care decision.
The product enables consumers to consolidate and track data related to patient demographics, family history, providers, and insurance information. It also tracks data related to preventive care, diagnoses and conditions, medication use, health care encounters and laboratory test results.
HealthFrame™ 3.0 includes an expanded built-in medical reference library that provides definitions of medical terms and care information such as approved clinical indications for medication use.
HealthFrame™ 3.0 expands on its capabilities, now including:

Introduction of "search everywhere" feature, making it possible for HealthFrame™ 3.0 users to find medical information in the built-in reference library, on the internet, or their medical record. HealthFrame's search is 'relationship aware' – meaning that it knows how concepts and conditions are related: HealthFrame™ can help you to find symptoms and drugs related to a medical condition, as well as your providers, medical visits, and how much you've spent in your care.
Enhanced contact management support: contact information (e.g. doctors and hospitals) can be shared across medical records.
Extensive display customization of personal health record data and reports. Users can create customized charts related to health status and can generate reports on medical history and expenses.
Flexibility of location of personal health record: users can control where their personal health data is stored, including HealthFrame local repository, files, or remote servers.
Synchronization support: enables flexible backup and merging of medical information from different sources.
Enhanced linking support, making it possible to connect different aspects of your medical record data (e.g. medications and symptoms). Related data can be used as part of customized searches and reports.
Support for additional medical record data, such as notes, and extended financial tracking.
Improved content for built-in reference library – supported by UMLS.
New built-in reports and panels: complete urinalysis panel, visit summary report.
Customer Testimonials
HealthFrame™ 3.0 upgrade has been well received by existing and new customers. Many have posted to the Community Forum, Records for Living FaceBook page and the HealthFrame (PHR) User's Group:
"[…] if people will use HealthFrame they will see, like I did, that it really is a better solution than either Google or Microsoft." – Jadian
"HealthFrame helped me manage my late partner's 4 years of declining health, 34 hospitalizations in 28 months, and only God knows how many conditions, surgeries, interventions…oh…wait…I have all that in Health Frame so it's not just God who knows! […] I can't tell you how many doctors commented about how helpful having complete information was to them. Thank you!" – Charlie J.
"I think your software is great. It has been a big help managing my health records. […] I keep my information in HealthFrame and would prefer to manage the data myself. I like to hangout on my own cloud." – Gregory W.
"Your product has really made it easy for me to keep track of my health. Thank You!" – welchga
"I love how the program can link between medications, visits and the like." – Paul D.
"I've been using HealthFrame for years and love it!" – Mark R.
Availability
HealthFrame™ 3.0 may be purchased from http://www.HealthFrame.com starting at $59.95. Significant discounts are available to HealthFrame™ 2.1 customers.
About Records For Living, Inc.
Records For Living, Inc. is a pioneer in the personal health information management industry. Records For Living, Inc. has released HealthFrame™ as an innovative solution to personal health management. Records For Living, Inc. also provides professional services to our health care provider partners to support the improved exchange of medical record information between providers and patients.
##