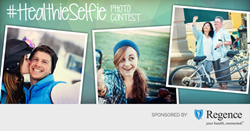 Every time someone submits a selfie or votes in the contest, they are helping to promote Regence BlueShield's message of health and wellness
Washington (PRWEB) April 25, 2014
Last year, the Oxford Dictionaries named "Selfie" the Word of the Year, and over 17 million photos using #selfie are posted to social networks any given week. But what if selfies could also inspire some good? That's what Regence BlueShield's new #HealthieSelfie Photo Contest is all about.
Through April 30th, Regence BlueShield of Washington is encouraging fans and followers to take a wellness "selfie" - a photo of their themselves living their wellness goals or a healthy life- and enter the photo contest. After snapping and submitting their wellness selfie, people can return to the contest daily to vote for their favorite photos, and encourage their friends and family to do the same.
In honor of the theme of the contest, the winners of the #HealthieSelfie Photo Contest will win wellness prizes, including a 1-year Expert 10 membership to Retrofit, a Fitbit Flex, and a Fitbit Zip to 1st, 2nd and 3rd place winners. Winners will determined by eligible photo entries with the most votes by the time the contest closes at midnight on April 30th.
To make it fun and simple for people to enter, vote, and share the contest, Regence BlueShield is using CafeGive Social's Photo Contest App. Using the app, people can submit photos and vote directly through Facebook, and encourage their friends to do the same. Regence fans can even enter the contest and vote for their favorite selfies through their smartphones. All they have to do is "Like" Regence on Facebook, click "Enter Contest," and follow the directions to upload their photo. The mobile-friendly app makes it easier for health-conscious Regence followers to connect and vote on the go.
Regence BlueShield has an extensive history of impact and engagement, and the #HealthieSelfie contest is a new way to mobilize its community around healthy living. Every time someone snaps and submits a selfie or votes in the contest, they are helping to promote its message of health and wellness.
Selfies have been around for years, but the recent popularity of the self-photoshoot has skyrocketed, and the reason may be grounded in health and well-being.
New research reveals that sharing uplifting photos online can make people feel happier and more connected, and Regence's #HealthieSelfies are doing just that. At the same time, selfies are not only a fun way for people to celebrate healthy living, but also a great way to stay motivated and build a community of support around their wellness goals.
By submitting and sharing #healthieselfies, contestants and Regence create excitement and buzz around healthy living, and empower more people to create and share their health goals.
Through the #HealthieSelfie Photo Contest, Regence BlueShield of Washington aims to inspire its online and offline community to get even more involved in their personal wellness, lead happy, healthy lives, and connect with Regence for help reaching their wellness goals.
About Regence BlueShield
Regence BlueShield of Washington is a leading health plan in Washington, providing group and individual medical, dental, and vision health insurance plans to parts of Washington and is an Independent Licensee of the Blue Cross and Blue Shield Association. Regence BlueShield of Washington is affiliated with Regence BlueCross BlueShield of Oregon, Regence BlueCross BlueShield of Utah and Regence BlueShield of Idaho. Together, the companies serve more than two million members in the Northwest/Intermountain Region. The Regence affiliated companies are committed to improving the health of its members and communities and to transforming the health care system. For more information, please visit http://www.wa.regence.com
About CafeGive Social:
CafeGive Social is the only company that combines social media marketing with meaningful, action-oriented cause marketing applications and solutions. Our products and services have helped companies, agencies and nonprofits of all sizes connect with customers to build brand, enhance reputation, and raise awareness and effect social change. Headquartered in Portland, Oregon, CafeGive Social is a privately held company. For more information, visit http://www.cafegive.com.