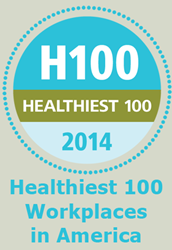 This new national corporate wellness award recognizes "best of the best" employers--those who set the standard for a culture of health in the workplace.
Indianapolis, IN (PRWEB) October 22, 2013
The new and first-of-its-kind national Healthiest 100 Workplaces in America award was announced today by Healthiest Employers, the independent corporate wellness research and data analysis firm whose dataset represents 60% of the Fortune 100 and 1/3 of the U.S. workforce including companies ranging from American Express, Nike and Dell to 4000+ local and regional businesses.
Healthiest Employers will release the inaugural 2014 Healthiest 100 list of award-winning employers and workplaces on Wed., Jan 15, 2014, based on applications received from Sept. 1, 2012 through Aug. 31, 2013. Applications received from Sept. 1, 2013 through Aug. 31, 2014 will be considered for the 2015 Healthiest 100.
Rod Reasen II, Healthiest Employers president, notes that, "Our data shows that a culture of health plays a significant role for millions of Americans and that is why we are excited to announce the employers most deserving of this award."
This program identifies and honors the healthiest workplaces in America based on a multi-step evaluation. Each participant first receives a Healthiest Employer Index score based on 75 employee wellness dimensions which cover policies, practices and programs in six categories. Responses are scored using a mathematical model that reflects the recommendations of a panel of public health and medical experts and industry and not-for-profit leaders.
Semi-finalists are then determined based on Healthiest Employer Index scores and each applicant's resulting position within the Healthiest Employer Wellness Maturity Model. They must then complete a Strategic Wellness Assessment that addresses six areas of thought leadership and vision in corporate wellness and employee wellness.
To determine the final Healthiest 100, the Healthiest Employers Index score and the results of participation in the Strategic Wellness Assessment are weighted using a proprietary formula.
Independent corporate wellness research and data analysis firm Healthiest Employers publishes the free newsletter Inside the Numbers for wellness leaders, the Corporate Wellness Trends Report: National Benchmarks and Best Practices, and other reports using its unique 360-degree dataset containing both employer and employee data on corporate and employee wellness. The Healthiest Employers Marketplace helps employers connect to customer-ranked corporate wellness vendors.