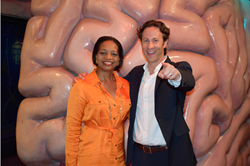 Anyone can measure their brain health and gain insight into what's happening under the hood.
Houston (PRWEB) April 24, 2017
The John P. McGovern Museum of Health and Medical Science is now partnered with BrainCheck, an innovative technology that allows anyone, anywhere to track their cognitive health, and share results with their physicians. Members and guests can sign up for its free edition to check their own brain health on the museum's website.
BrainCheck founder, Dr. David Eagleman, formerly at Baylor College of Medicine and now at Stanford University, is one of the most famous faces of neuroscience, with his New York Times best-selling books and Emmy-nominated PBS Series "The Brain." "With BrainCheck available through the museum, anyone can measure their brain health and gain insight into what's happening under the hood," Eagleman said.
The BrainCheck platform uses interactive neurocognitive tests to measure brain performance in multiple domains. The tests are fun and easy-to-use, with versions geared for both children and older adults.
Dr. Melanie Johnson, president and CEO of the Health Museum, spoke on the partnership and its benefits to the community, saying, "We are thrilled to be partnering with BrainCheck to offer our members and guests the opportunity to glean information about their brain health. David Eagleman has done such incredible work in the field of neurocognitive testing and we're delighted that guests can log on to our website and start tracking their own brain health with a few simple steps. We believe that the future of health is intrinsically linked with technology and we are always on the lookout for partnerships that help us connect our members and guests with resources and information not previously available to them."
To kick off the new partnership, the museum hosted "The Secret Lives of the Brain," a special lecture with Dr. Eagleman. Later this year, the museum will feature an exhibit dedicated to BrainCheck so families can learn the importance of brain health and neuroscience and interact with the app on-site.
For more information or to sign up for the app, visit http://www.braincheck.com.
About BrainCheck
BrainCheck's goal is to democratize cognitive health by bringing its interactive testing platform to people everywhere. Available on iPhone, iPad and desktop, and in English and Spanish, BrainCheck assesses multiple cognitive domains in minutes and delivers results that can be shared with family members, caregivers, and clinicians. BrainCheck is used by individuals, athletic teams, senior living organizations, and doctors around the world, and is spreading rapidly. The platform also includes special content by renowned neuroscientist, author and speaker Dr. David Eagleman to give people insights into the inner workings of the brain and a better understanding of their brain health. To learn more, please visit http://www.braincheck.com.
About the Health Museum
The Health Museum is committed to excellence in innovative and interactive health science experiences. The most interactive and popular science learning center of its kind, the museum inspires passion and curiosity in health, medical sciences, and the human body. The museum provides a variety of programs for adults and children alike. It is also home to the McGovern 4D Theater, "the Amazing Body Gallery," and seasonal and traveling exhibits. The museum offers affordable memberships for individuals and families. To learn more, please visit http://www.thehealthmuseum.org.