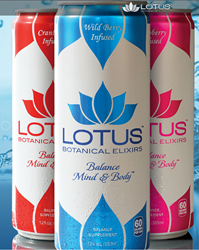 Washington, DC (PRWEB) November 26, 2014
"Lotus Botanical Elixirs" was featured on NewsWatch as part of its monthly Health Watch, which features the latest health related products and services available to consumers. Susan Bridges, a health expert and host of NewsWatch, conducted the drink review and shared with viewers how they're a great way to help balance the body with a refreshing taste experience.
In today's fast-paced world, life's stress finds ways to throw everyone out of balance; felt in a range of symptoms, from low energy, fatigue, anxiety, irritability, lack of focus, to sleep. To combat the imbalance, highly caffeinated energy drinks and relaxation beverages have come in vogue. What consumers don't realize is those options only mask their symptoms, rather than address the underlying cause.
To get to the root of your imbalance, check out Lotus Botanical Elixirs. These natural elixirs feature the legendary Lotus Flowers in "adaptogenic" botanical fusions that have been used in Egyptian, Chinese, and Indian Ayurvedic medicine for thousands of years with the holistic understanding that a body in balance is the best it can be.
Modern nutritional science has recently classified this group of botanicals as "adaptogens", believed to have the unique ability to strengthen the body's response to stress, enhance its ability to cope with anxiety, fight fatigue and adapt to the body's specific needs to normalize imbalance. So whether a person is tired or hyper, Lotus Botanical Elixirs are a great way to help feel balanced with a refreshing taste experience.
The elixirs come in raspberry, cranberry, and wild berry infused flavors. They are naturally sweetened, low in calories and have absolutely nothing artificial added. They're also lightly carbonated and naturally caffeinated. The company, Lotus Botanical Elixirs, is located in, California.
To learn more, visit http://www.lotuselixirs.com.
About NewsWatch
NewsWatch is a weekly 30-minute consumer oriented television show that airs on the History Channel, FYI Network, and ION Network. NewsWatch regularly features top technology products and services, mobile applications for iOS, Android, and Windows devices, unique and beautiful travel destinations around the world, health and medical tips, and entertainment interviews on the show. NewsWatch airs on the History Channel at 6:00 – 6:30 AM ET/PT and on the FYI Network from 7:00 – 7:30 AM ET.
NewsWatch is located in the greater Washington, DC area and has been on air for over 25 years. For more information or to watch the most recent episode, visit http://www.newswatchtv.com/healthwatch.html.