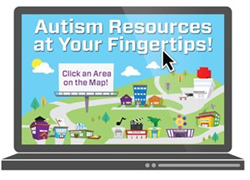 Washington, DC (PRWEB) November 26, 2014
"Kohl's Autism Awareness Community Hub" was featured on NewsWatch as part of its monthly Health Watch, which features the latest health related products and services available to consumers. Susan Bridges, a health expert and host of NewsWatch, conducted the review and shared with viewers how it's a wealth of practical strategies and multimedia resources for individuals, family members, and others affected by ASD.
According to the Autism Society, Autism Spectrum Disorder is the fastest growing developmental disability in the United States, affecting about 1 in 68 children, and 1 in 42 boys. Individuals, family members, and others affected by ASD, often search for information and support. One of the top places to get this information is the Kohl's Autism Awareness Community Hub, which provides a wealth of practical strategies and multimedia resources, either developed by the experts at Children's Specialized Hospital or selected by them.
The Hub is designed to assist people with autism, as well as parents, caregivers, professionals, and service providers to better understand the disorder, get help with specific challenges, and discover tools to support the needs and interests of people with autism. Children's Specialized Hospital, a leader in ASD research and services, in partnership with Kohl's Cares, designed the tool for various aspects of life. The hub contains medical resources and strategies for safety.
It also offers tips and suggestions for everyday situations like getting a haircut, participating in recreational activities, traveling and vacations, and preparing for employment. Once in the community hub, a person can click through the interactive map and explore resources related to autism education and community life.
To learn more, visit http://www.childrens-specialized.org/kohlsautismawareness.
About NewsWatch
NewsWatch is a weekly 30-minute consumer oriented television show that airs on the History Channel, FYI Network, and ION Network. NewsWatch regularly features top technology products and services, mobile applications for iOS, Android, and Windows devices, unique and beautiful travel destinations around the world, health and medical tips, and entertainment interviews on the show. NewsWatch airs on the History Channel at 6:00 – 6:30 AM ET/PT and on the FYI Network from 7:00 – 7:30 AM ET.
NewsWatch is located in the greater Washington, DC area and has been on air for over 25 years. For more information or to watch the most recent episode, visit http://www.newswatchtv.com/healthwatch.html.