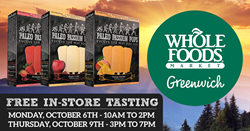 Greenwich, CT (PRWEB) October 03, 2014
Paleo Passion Foods announces that its Paleo Passion Pops will be sold in Whole Foods retail locations throughout the Northeast. The pops are available first in the Greenwich, CT store, and more Whole Foods retailers throughout the Northeast will hopefully follow in the coming weeks. Because Paleo Passion Pops contain no added sugar and are made with completely natural, whole food ingredients, the company feels that their product is a good fit for the clientele of Whole Foods.
In anticipation of the retail launch of Paleo Passion Pops, Paleo Passion Foods and Whole Foods plan to host in-store demo days, where customers can try free samples of the sweet treat and learn more about the ingredients of the product. The first demo date at the Whole Foods Market:Greenwich store will be Monday, October 6th from 10:00am to 2:00pm. The second demo date is Thursday, October 9th from 3:00pm to 7:00pm.
Paleo Passion Pops were recently featured at the Natural Products Expo East 2014, held in Baltimore. At the event, retailers of all sizes as well as distributors showed tremendous interest in the product. Foodies, bloggers and food critics also were impressed by the taste and ingredients of the product.
"Our experience at the Natural Products Expo makes us even more excited about the Whole Foods launch. We know that people will love our products once they get to taste them, and we are passionate about offering an alternative to the sugar-heavy sweet treats so many people eat on a daily basis," stated Marty Sands, company founder.
Paleo Passion Pops are made with fruits and super foods, like flax seeds, ginger, kale, spinach, chia seeds and even green tea, to provide a wholesome treat. They have no processed, refined, or added-sugars and are gluten-free, dairy-free, fat-free and vegan. They are also Certified Kosher Pareve. Using the natural sweetness of fruit, without any additional sugars or sugar alternatives, they provide a satisfying treat without all of the unnatural ingredients found in most desserts.
Those who are not located near one of the Whole Foods locations that will be offering Paleo Passion Pops can purchase the pops for themselves at http://www.paleopassionfoods.com. The product will be shipped directly to the customer's door. Other retailers offering Paleo Passion Pops can be found at http://www.paleopassionfoods.com/storelocator/.
About Paleo Passion Foods
Launched in 2014, Paleo Passion Foods developed out of a desire to provide wholesome, tasty foods to people who are looking to eat in a more natural manner. The company's Paleo Passion Pops offers an all-natural, no-added-sugar frozen treat as an alternative to sugar-heavy ice cream bars. For more information about Paleo Passion Pops, visit them at http://www.paleopassionfoods.com, or email Ward (ward(at)paleopassionfoods(dot)com) or Jon (jon(at)paleopassionfoods(dot)com) at the provided addresses below. The company can also be reached by phone at 203-661-7519.