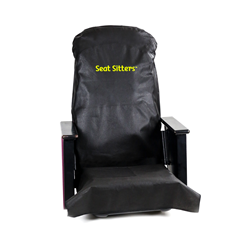 "As a mom, keeping my kids and family healthy is of utmost importance. I hope that others can take charge of their situations by bringing along a Seat Sitter™ no matter their destination." — Founder and CEO Gina Hoensheid
ROCHESTER, MI. (PRWEB) June 28, 2017
Seat Sitters™, a division of SeatSational™, is excited to announce that their original Seat SittersTM, Kids Edition and Bridal Edition are now available for purchase on Amazon. In addition to being available on the retail giant's website, every edition of Seat Sitters™ is Prime eligible!
Along with launching Seat Sitters™ on Amazon, Seat Sitters™ Bridal Edition will be available on the #1 premier wedding website The Knot. Couples looking to make a statement on their honeymoon flight can purchase a customized and embroidered seat cover to show off their special occasion and make their flight fun and memorable.
Etsy will also be featuring the Seat Sitters™ products.
Seat Sitters™ is thrilled to be partnering with these esteemed companies to continue to offer our many exciting product lines to the public.
Seat Sitters™ are the reusable, disposable washable and 100% recyclable seat covers that provide a barrier against germs on public seating. Seat Sitters are great for use on airplanes, in movie theaters, and more. They're perfect for cold & flu season and for those who are affected by food and peanut allergies. An allergy mask, tray table cover, crayons and disinfecting wipes come in every package. Seat Sitters'™ exclusive sanitary tray table covers, complete with crayons, let your kids be creative and entertained while flying.
Kids can upload their finished artwork to Seat Sitters'™ Facebook or Instagram to show off their art. Seat Sitters™ can also be gently washed in cold water and packed away for the next flight.
Founder and CEO Gina Hoensheid came up with the idea for Seat Sitters™ as she became increasingly aware of germs on seldom-cleaned seats. As a mom, keeping her kids and her family healthy is of utmost importance and she hopes that others can take charge of their situations by bringing along a Seat Sitter™.
Seat Sitters'™ mission is to make travel clean, healthy and fun! All products can also be found and purchased at https://seatsitters.com/.