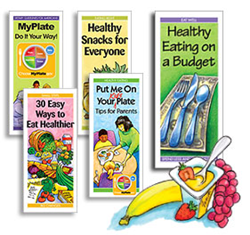 Keep nutrition on the front burner when time and money are tight.
Santa Cruz, CA (PRWEB) June 17, 2014
Eating healthy can be done without breaking the budget. Health educators, nutrition professionals, and any organization that helps communities increase nutrition, will appreciate the information in this new sample pack. The colorful print materials offer practical, easy tips on meal planning, smart shopping, kitchen timesavers and more. Journeyworks Publishing is dedicated to creating easy-to-read brochures that offer reliable, clear information and plenty of actionable tips. The complimentary sample pack includes the following popular pamphlets: "Healthy Eating on a Budget"; "Healthy Snacks for Everyone"; "30 Ways to Eat Healthier"; "MyPlate: Do It Your Way!" and "Put Me On Your Kid's Plate: Tips for Parents."
Click here to request Journeyworks Publishing's Healthy Eating sample pack today.
About Journeyworks Publishing
Journeyworks Publishing is a national health education and health promotion publisher with more than 10,000,000 pamphlets, brochures, booklets, posters, bookmarks, videos and other products distributed each year. Used extensively by public health departments, hospitals, schools, VA programs and more, Journeyworks materials are known for being creative, effective, easy-to-read, and accurate. You can learn more by visiting http://www.journeyworks.com.