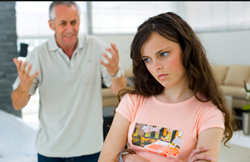 It's important to make sure the punishment fits the crime.
Fort Lee, New Jersey (PRWEB) September 27, 2013
"Time-out" has been the standard of discipline for small children for decades, must most parents are left scratching their heads when one day they wake up and find that their little ones are too big for time-out to have any punitive effect. In the latest blog fromHealthyForKids.com, titled "Disciplining Older Kids by Revoking Privileges", guest blogger Liz Ernst offers advice on disciplining older children and teens effectively.
"Parents are always looking for ways to discipline their children that are fair and effective," Ernst says. "We learn quickly as our children grow older that 'time-out' and other discipline methods that work on younger children have little to no effect on older kids.
"After all, telling a tween or teenager to sit quietly in a designated spot for any amount of time is not going to work for its intended purpose."
According to Ernst, as children grow older effective punishment requires a new, age appropriate approach. One effective measure for disciplining older children is to remove privileges that they hold dear.
"Taking away their cell phone or iPod, or banning television or a video game system will get their attention," Ernst says. "As when they were little, it's important to make sure the punishment fits the crime, and that you follow though.
"For instance, don't arbitrarily take away their phone and give it back when you feel like it. Just like with time out, any punishment you put in place should have boundaries and set rules in order to be effective."
A small infraction should result in removal of a privilege for a relatively short amount of time. Ernst suggests that parents save the more serious punishments for times when their child really does do something wrong.
"Always be sure to explain to the child why you have chosen to punish them, and exactly what you expect from your child in order to have their privileges restored," Ernst says.
HealthyForKids.com is a part of Marble Media LLC's conglomerate of content-rich information distribution blogs offering tips, advice, encouragement and gossip on everything from fashion to health, marriage and much more. For more information, visit the HealthyforKids.com website or email info(at)healthyformommies(dot)com.
About Marble Media LLC:
Marble Media LLC is a creator of high-quality, content-rich blog sites that provide expansive coverage of relevant information to readers who make up a wide range of demographics. The Marble Media LLC team of expert writers covers a wide range of specialties including travel, food, health, fitness, social media, marriage, parenting, technology, weight loss, fashion and much more.
For more information on Marble Media LLC's offerings and advertising opportunities, visit the MarbleMediaLLC.com website, or email sales(at)marblemedia(dot)com.