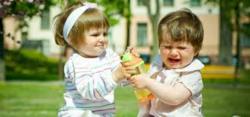 Monitor play dates closely, but do so with an open mind, even when it's not easy to resist intervening.
FORT LEE, New Jersey (PRWEB) July 05, 2013
Parents have been facilitating socialization opportunities for their toddlers for many years, and yet few parents understand how important it is for young children to interact with their peers without parents intervening at every sign of conflict. In the HealthyForKids.com July 1 blog titled, "Monitor Toddler Play Dates With an Open Mind," guest blogger Liz Ernst wants readers to learn that toddlers have their own way of communicating with each other, utilizing their own language and approach to learn about sharing, resolve conflicts, and build relationships.
Most parents know that it's important for their toddlers to socialize whenever they have the chance; good parents want to provide their little ones with opportunities to learn communication skills and how to get along with other children from an early age.
That doesn't mean it's always easy to let them do so, Ernst says. She sees it as a parental responsibility to monitor play dates closely, and to do so with an open mind, even when it's not easy.
"For instance, when two small toddlers instinctively fight over a toy, neither child is to blame for the disagreement – they are toddlers," Ernst says. "But, when a child bites or hits another child over the toy, parents need to be vigilant about watching both children and keeping them safe, while still trying to let them work it out on their own.
When kids get old enough to articulate in a meaningful way, they are probably more capable of solving their own conflicts, Ernst says.
"Parents must know when to step in and when to sit back, observe, and let the kids try to work it out; you don't want any child to get hurt, but then again you want your child to learn to handle things and not rely on you for everything."
For more information on socializing strategies, play groups, and other important parenting issues, visit the HealthyforKids.com website or email info(at)healthykids(dot)com.
About Marble Media LLC:
Marble Media LLC is a creator of high-quality, content-rich blog sites that provide expansive coverage of relevant information to readers who make up a wide range of demographics. The Marble Media LLC team of expert writers covers a wide range of specialties including travel, food, health, fitness, social media, marriage, parenting, technology, weight loss, fashion and much more.
For more information on Marble Media LLC's offerings and advertising opportunities, visit the MarbleMediaLLC.com website, or email sales(at)marblemedia(dot)com.