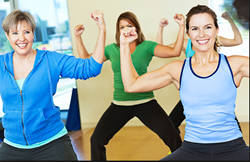 Fitness parties are the latest trend in celebrating life achievements and milestones.
Fort Lee, New Jersey (PRWEB) September 21, 2013
Busy moms, both the stay-at-home and working kind, share a couple of common complaints: there is no time for socializing or working out anymore. In the latest blog from HealthyForMommies.com blog site titled "Fitness Parties Are a Fun and Healthy Trend For Busy Moms," guest blogger Liz Ernst says the answer might be in a growing new trend nationwide: fitness parties.
The fast-growing trend is a great way to celebrate milestones like birthdays, job promotions or any milestone event by bringing friends together for some cardio rather than cocktails. Some people are throwing fitness parties out of their homes and inviting guest trainers and instructors over to teach the group of friends something new to fuel their workout.
Gyms across the U.S. have also taken to hosting fitness parties for busy adults who can't quite keep up with weight fluctuations, and for those who would rather be socializing than at the gym. Fitness parties allow them to do both, and have fun in the process.
"Fitness parties are the latest trend in celebrating life achievements and milestones," Ernst says.
Think bachelorette parties, birthday parties, job promotion parties—anything goes.
"Pole-dancing parties are among the most popular of the fitness-themed parties, with twenty- and thirty-something women happy to give this increasingly popular option a try."
The fitness party provides a reason for friends to get together, try something new and maybe shed some inhibitions for an hour, according to Ernst. Professionals are swapping dinner and cocktails for fitness classes, and many business conferences are incorporating yoga classes into the program as a way to help attendees alleviate stress.
Choosing to celebrate special occasions in more active and healthy ways than the traditional rich meal with cake and drinks is helping people focus more on their health and fitness, and inspiring friends and loved ones to do the same.
For many, breaking a sweat and learning new ways to get a good workout in the company of friends is a great way to organize people to meet up and socialize in a positive and healthy setting.
For more information, visit the HealthyforMommies.com website or email info(at)healthyformommies(dot)com.
About Marble Media LLC:
Marble Media LLC is a creator of high-quality, content-rich blog sites that provide expansive coverage of relevant information to readers who make up a wide range of demographics. The Marble Media LLC team of expert writers covers a wide range of specialties including travel, food, health, fitness, social media, marriage, parenting, technology, weight loss, fashion and much more.
For more information on Marble Media LLC's offerings and advertising opportunities, visit the MarbleMediaLLC.com website, or email sales(at)marblemedia(dot)com.