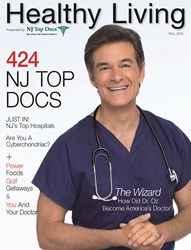 Scotch Plains, NJ (PRWEB) January 02, 2014
With the success of the prior issues, the "Top Docs" issue is bound to be the most comprehensive edition to date.
While the "Top Doctors" issue was built very similar to the "Top Surgeons" and "Top Dentists" that came before it, this magazine features a very familiar face on its cover. Dr. Mehmet Oz is a highly praised cardiothoracic surgeon, author, and television personality with a large and loyal following. To have Dr. Oz featured on the cover as well as in the magazine is an honor for NJ Top Docs, which is why they are so proud to announce him as their newest magazine cover model who just happens to be a top doctor, Emmy-Award winner, author, father, among many other things! Having Dr. Oz featured on the cover of the NJ Top Docs magazine is a wonderful component, but the magazine certainly holds its own all by itself.
The high-end issue is complete with glossy pages featuring large photos of the NJ Top Docs approved doctors as well as descriptions of their practices. Each doctor profiled in the issue has the city and county they are located in as well as the areas of specialty that they are in listed. Readers can narrow down their search for a doctor by flipping through the pages and essentially "meeting" these physicians before going to the office. To view the digital version of the magazine please, visit: http://issuu.com/hudsonmod/docs/c2c_topdocs.
To register to recieve a free subscription to NJ Top Docs Magazine, please visit: http://www.njtopdocs.com/contact/magazine_signup.jsp.
To learn more about NJ Top Docs, please visit our website.
About Us
NJ Top Docs is a comprehensive information resource of Top Doctors, Dentists and Hospitals. We are profiling over 900 Healthcare Providers and have made it convenient for you to find them.
NJ Top Docs allows patients to "meet" these providers online before making their appointment.
For more information, e-mail us at info(at)NJTopDocs(dot)com and/or visit http://www.NJTopDocs.com.
You can also follow us on Facebook – Twitter – YouTube.