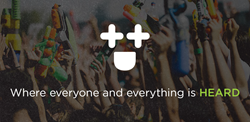 This exchange is a significant breakthrough in the digital arms race
Santa Monica, CA (PRWEB) September 29, 2014
A new social exchange platform, Heard, launches to the public today on iOS, Android and desktop to change the way people share and exchange content online using its proprietary badging and content matching systems.
Through its patent-pending Verified not Identified™ badges, the Santa Monica-based company gives community participants complete control of their identities at all times. Badges are based on verified facts about users such as where they work, industry expertise or association memberships. The badging process is encrypted to ensure that users cannot see the information that was used to obtain the badge, only that it has been verified. Up to this point, other sites typically required users to fully identify themselves or remain completely anonymous.
"The driving force behind Heard is to bridge the gap between identified and anonymous content creators who, when combined with our robust reputation and content matching systems, create a very powerful network for the public," said Heard Co-Founder and Chief Executive Officer Dave Vronay. "Instead of the all or nothing approach to identity, our system gives users another option of revealing only those badges that are relevant to the conversation."
Heard's vision is for a sharing ecosystem where every piece of content finds its perfect audience, whether it is one person or one million. Users' content is dynamically connected to audiences in real-time, and the more successful it is, the more the users' reputation and distribution grows. This built-in motivation encourages uploading of only the most relevant and interesting content in order to maintain and enhance online standing.
"Our content matching system answers that question of 'how do you reach people who don't know you' and 'how do you find interesting content that's not curated by you, editors or the masses," Vronay added.
The system was architected by Vronay and his co-founder Ruben Kleiman and based off of lessons learned during Kleiman's time at Netflix, where he was responsible for the movie-classification and matching system. Users no longer have to search, scroll, follow, subscribe, or friend others to get the information they want. Using its own matching engine, Heard users' feeds are strictly based upon various signals to the system—not their personal information. As a result, the most relevant content is always prominently featured in their personalized feed along with a variety of other potentially interesting content.
In the coming months, Heard will add additional badges, as well as open up its API to allow companies or individuals to setup their own secure badge authorities. The technology has greater implications for how society exchanges information from here on out.
"This exchange is a significant breakthrough in the digital arms race," explained author and media theorist Douglas Rushkoff, who serves as an advisor to the company. "Not just for government and corporate leakers, but for everyone who is trying to share reliable content and does not want their privacy compromised. It's also a game-changing alternative to the popularity contests and sponsored posts of today's conventional social networks. Heard is focused on getting audiences what they want based on what you have to say, and whether or not you're for real."
Heard is available in the App Store and Google Play. For more information, visit goheard.com.
ABOUT HEARD
Founded in 2013, Heard's mission is to break down the barriers of online communication by creating more effective ways for users to identify themselves and exchange content. The Heard social exchange is for the people, and as such, invites everybody to join. Heard is a privately held company and is headquartered in Santa Monica, CA.