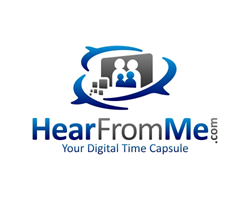 "A legacy is a life story that needs to be told." - Dr. Cabot Jaffee, Sr.
Maitland, FL (PRWEB) April 29, 2014
HearFromMe, Inc., developers of HearFromMe.com, is celebrating their one year anniversary this April and in an effort to enhance their already robust offerings of Digital Time Capsules, HearFromMe, Inc. has added a blog to their website.
Within the first year of existence, HearFromMe has gone from idea, to incorporation, to fully operational and interactive website with a product offering of Digital Time Capsules which assist people in saving their fondest memories in the form of digital files which can then be scheduled for delivery to loved ones at a specific time in the future. Within the site, HearFromMe offers its paid users access to a full resource center that provides them with examples, guidelines and ideas that help in the creation of content for their Digital Time Capsules.
Built into the system is the ability to automatically convert all files to the most current version upon delivery, assuring the recipient the ability to view, play, and/or listen to the items that are included, no matter how long ago they were created. Along with the post purchase resource center, HearFromMe has added a blog that can further help people in the creation of their messages. The blog will help create a community where people can share ideas as well as stories and items of interest that may be related to the creation and protection of one's legacy.
HearFromMe is the brainchild of Dr. Cabot Jaffee, Sr. Dr. Jaffee lost his first wife at a young age to cancer and was left to raise 4 small children. With those children now grown and with children of their own, Dr. Jaffee realized how important a person's legacy can be and how memories of a voice, moments of video, photographs, and letters provide a comforting picture of where someone comes from. As Dr. Jaffe says, "A legacy is a life story that needs to be told."
About HearFromMe.com – HearFromMe.com was founded in 2013, and is a cloud-secured delivery system that utilizes today's technology to allow users to upload video, audio, text and photographs into its Digital Time Capsules to be scheduled for delivery to specified beneficiaries on a specific date in the future. HearFromMe.com offers its services for a one-time non-recurring fee. Originally created as a way to communicate and send messages posthumously, HearFromMe has quickly expanded and is now being used in a number of other ways including the sharing of weddings photos and videos with attendees on a specific anniversary, documenting grade school years of a child and delivering at graduation, and military personnel sending messages for special occasions that they are unable to attend.