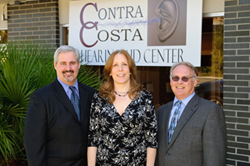 Walnut Creek, CA (PRWEB) August 27, 2014
Whether to repair or replace a damaged hearing aid is always a difficult question, but there are a few rules of thumb. Because each situation is unique, Contra Costa Hearing Aid Center encourage patients to contact them for specific advice and an examination of their hearing instrument.
In his recent blog post titled "Picking Between Hearing Aid Replacement or Repair", Hearing Instrument Specialist Toby Hill makes the following key points:
1. Do you like your current hearing aids? If you do, it might be easier for you to have them repaired than to change to newer digital hearing aids with a notably different set of sound characteristics.
2. What are the costs involved? Whereas a new pair of hearing aids might cost thousands of dollars, your current hearing aids may cost only a couple of hundred dollars to repair. This economic equation can be thrown off by insurance which may cover new hearing aids, but not repairs.
3. How long will you be without your hearing aid? A local audiologist may be able to repair them same day or next day whereas sending them in to a lab for repairs can take weeks.
Ultimately, the "replace or repair" question cannot be answered by anyone other than the patient, but Contra Costa Hearing Aid Center is happy to help individuals stuck in this situation make an informed choice.
About Toby Hill, BC-HIS
Toby Hill is the owner of Contra Costa Hearing Aid Center and is Board Certified in Hearing Instrument Sciences. Before opening his own practice, Toby was a partner in another hearing aid practice and worked in hearing aid manufacturing. He entered the hearing aid manufacturing industry after 10 years in computer technology, applying what he learned to the delicate electronics and sophisticated programs of modern digital hearing aids. After becoming a hearing aid technology expert, Toby left manufacturing to work directly with patients. He greatly enjoys patient care and helping his patients hear better.
About Contra Costa Hearing Aid Center
Contra Costa Hearing Aid Center takes a consultative approach to hearing health care with an emphasis on patient education. In addition to providing hearing tests and fitting hearing aids in Walnut Creek CA, the staff provides support, counseling, advice and rehabilitation. Contra Costa Hearing Aid Center is concerned about the patient as a person and will match their amplification needs, lifestyle, and budget with the hearing instrument best suited for them. The goal at Contra Costa Hearing Aid Center is to provide patients the best possible, individualized hearing care. Contra Costa Hearing Aid Center has offices in downtown Walnut Creek and in Brentwood CA.
Contact:
Toby Hill
http://www.contracostahearing.com
Contra Costa Hearing Aid Center
1196 Boulevard Way, Ste 1
Walnut Creek, CA 94595
(925) 203-9134
Contra Costa Hearing Aid Center
1240 Central Blvd. Ste A2
Brentwood, CA 94513
(925) 203-9144