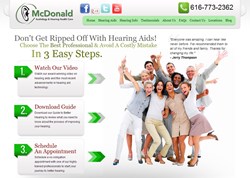 Grand Rapids MI (PRWEB) November 23, 2013
Researching hearing aids can be tough for the novice shopper because there are numerous different designs and so many different abbreviations employed to refer to them. To help the public make sense of the various types and the meanings of all the abbreviations, [McDonald Audiology & Hearing Health Care just recently released a quick reference list on their website at Hearing Aid Styles – What Do All Those Abbreviations Mean?
The subsequent primary hearing aid types are included in the list, which is presented in alphabetical order (not by size or features).
Behind the Ear (BTE)
Completely in Canal (CIC)
In the Ear (ITE)
In the Canal (ITC)
Invisible in Canal (IIC)
Open Ear / Open Fit
Receiver In the Ear (RIE or RITE)
It becomes immediately apparent how similar many of the hearing aid names and abbreviations are when displayed alongside each other. The quick reference guide written by McDonald Audiology & Hearing Health Care is one step in the right direction toward clearing up some of that confusion. While noting that internet research is an important part in selecting the ideal hearing aid, Audiologists would caution consumers that there is a lot of additional information to be obtained by talking to a hearing care specialist. A hearing care specialist can deliver advice about which hearing aid types are appropriate for an individual after learning more about that person's lifestyle and activities and where the hearing aid will be used most often.
About Dr. Pamela D. Keenan, Au.D.
Dr. Pamela Keenan attended Central Michigan University where she obtained her Bachelor of Science in Communication Disorders in 1991. Subsequently she attended Michigan State University, where she received a Master's degree in Audiology in 1992. In 2009 she completed her Doctor of Audiology degree at the George S. Osborne College of Audiology at Salus University. She holds a Certificate of Clinical Competence in Audiology (CCC-A) and is licensed by the State of Michigan Board of Audiology. Dr. Keenan enjoys volunteering with local groups such as HLAA (Hearing Loss Association of America) and DHHS (Deaf and Hard of Hearing Services) to help educate the public about hearing and issues surrounding hearing loss.
About McDonald Audiology & Hearing Health Care
McDonald Audiology and Hearing Health Care is staffed staff by the best Board Certified Hearing Instrument Specialists and Audiologists in the Grand Rapids area. Their combined experience, knowledge and education enables them to offer local residents the best in hearing health care services. McDonald Audiology hearing professionals believe hearing solutions must be structured individually to meet the needs of each patient. No two hearing losses are alike. Each patient deserves personalized care and a rehabilitation program tailored for their specific hearing needs.
Contact:
Pamela D. Keenan
mcdonaldhearingservices.com
McDonald Audiology & Hearing Health Care
330 Fuller Ave NE
Grand Rapids MI 49503
(616) 773-2362
McDonald Audiology & Hearing Health Care
961 Four Mile Rd NW
Grand Rapids MI 49544
(616) 773-2419
McDonald Audiology & Hearing Health Care
4444 Kalamazoo Ave, SE Ste 101
Grand Rapids MI 49508
(616) 828-1516
McDonald Audiology & Hearing Health Care
705 S Greenville West Drive Suite 202
Greenville MI 48838
(616) 828-5420