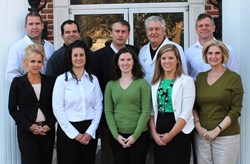 Kennett Square, PA (PRWEB) November 30, 2013
Hearing aids can be difficult to research because of the extensive amount of new vocabulary and acronyms used to identify them. It is particularly tough for the first time hearing aid buyer.To clear up some of the frustration, Hearing Aid Associates published a user-friendly list of popular hearing aid types and terminology on their website titled Hearing Aid Abbreviations, Styles and Varieties.
The subsequent major hearing aid styles are contained in the list, which is presented in order from smallest to largest:
Invisible in Canal (IIC)
Extended Wear Hearing Aids
Deep Canal (DC)
Completely in Canal (CIC)
In the Canal (ITC)
In the Ear (ITE)
Receiver In the Ear (RIE or RITE)
Open Ear / Open Fit
Behind the Ear (BTE)
It becomes immediately apparent how similar many of the hearing aid names and abbreviations are when viewed alongside each other. Despite the very similar names, these hearing aid styles differ in crucial ways. It's the purpose of the quick reference guide created by Hearing Aid Associates to point out these essential differences. At the same time, the Hearing Aid Dispensers at Hearing Aid Associates encourage any individual considering a hearing aid purchase not to depend upon independent research alone, but rather to make an appointment with a specialist. A hearing care professional can deliver advice about which hearing aid styles are suitable for an individual after learning more about each person's lifestyle and activities and where the hearing aid will be used most often.
About Hearing Aid Associates:
Hearing Aid Associates is one of the most reputed hearing healthcare service providers in Pennsylvania with nine locations. Hearing Aid Associates has provided hearing aids to the Southeastern Pennsylvania area and its surrounding communities for over 10 years. The company offers a full range of diagnostic and preventative hearing healthcare professional services, including hearing aid screening, evaluations, hearing aids sales and rehabilitative and preventative counseling. The staff is dedicated to keeping abreast of the latest improvements in technological advancements in the hearing industry and is committed to offering the most current options to our patients. There are currently 9 Hearing Aid Associates locations in Boyertown, Cleona, Kennett Square, Lemoyne, Palmyra, Phoenixville, Pottstown, Reading, Harrisburg,
Contact:
Ed Grabarek
hearingaidassociates.net
Hearing Aid Associates
115 E. Main St
Palmyra, PA 17078
(717) 473-4160
Hearing Aid Associates
6 Hearthstone Ct, Suite 105
Reading, PA 19606
(610) 816-6024
Hearing Aid Associates
1610 Medical Dr, Ste 103
Pottstown, PA 19464
(610) 482-4164
Hearing Aid Associates
1220 Valley Forge Rd., Suite 1B
Phoenixville, PA 19460
(484) 985-4029
Hearing Aid Associates
35 North Walnut St
Boyertown, PA 19512
(484) 334-2595
Hearing Aid Associates
4500 Oakhurst Blvd., Suite 315
Harrisburg, PA 17110
(717) 745-1177
Hearing Aid Associates
211 West Penn Avenue
Cleona, PA 17042
(717) 685-4115
Hearing Aid Associates
305 W State St #2
Kennett Square PA 19348
(610)-400-1408
Hearing Aid Associates
20 N. 12th St., Suite 341
Lemoyne, PA 17043
(610) 816-6020