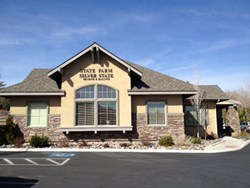 Reno, NV (PRWEB) November 12, 2013
The many different types of hearing aids and the numerous different abbreviations employed to refer to them make it hard for novice buyers to conduct their own research. Silver State Hearing & Balance hopes that the list of common hearing aid types and terminology recently added to their internet site will help Reno residents better understand their hearing aid options. The post is called Learning the Wide Range of Acronyms Commonly Used to Distinguish Hearing Aids Styles and contains fundamental information on the most popular hearing aid styles among them:
Invisible in Canal (IIC)
Extended Wear Hearing Aids
Deep Canal (DC)
Completely in Canal (CIC)
In the Canal (ITC)
In the Ear (ITE)
Receiver In the Ear (RIE or RITE)
Open Ear / Open Fit
Behind the Ear (BTE)
A side-by-side listing of all the major hearing aid styles quickly reveals why shoppers often have difficulty making sense of the similar names and acronyms. Despite the similar names, these hearing aid designs differ in crucial ways. It is the purpose of the quick reference guide written by Silver State Hearing & Balance to point out these fundamental differences. At the same time, the Audiologists at Silver State Hearing & Balance encourage any individual considering a hearing aid purchase not to rely on independent research alone, but rather to make an appointment with a specialist. A hearing care expert can provide advice about which hearing aid models are best suited for an individual after learning more about each person's lifestyle and activities and where the hearing aid will be used most frequently.
About Dr. Christine Schellin
Christine Schellin, owner of Silver State Hearing & Balance, Inc., received her B.S. in Speech Pathology/Audiology from the University of Nevada, Reno in 1999, an M.A. in Audiology from Western Washington University in 2001, and an Au.D. from Salus University in 2008. Prior to opening Silver State Hearing & Balance, Inc., Christine was a clinical audiologist at the VA Sierra Nevada HealthCare System for 6 years. She is a fellow of the American Academy of Audiology (AAA) and is licensed by the Nevada State Board of Examiners for Audiology and Speech Pathology, the Nevada State Board of Hearing Aid Specialists and is licensed as a dispensing audiologist in the state of California. She served as vice president for the Nevada Speech Language and Hearing Association from 2004-2006.
About Silver State Hearing & Balance, Inc.:
Silver State Hearing & Balance, Inc. has provided hearing aids in Reno, Nevada and its surrounding communities for several years. The company offers a full range of diagnostic and preventative hearing healthcare professional services, including hearing aid screening, evaluations, hearing aids sales and rehabilitative and preventative counseling. Silver State Hearing & Balance, Inc. is dedicated to keeping abreast of the latest improvements in technological advancements in the hearing industry and are committed to offering the most current options to its patients. Choosing a hearing professional is one of the most important decisions a consumer will ever make and the personal relationships they will develop with the staff at Silver State Hearing & Balance will continue long after the initial appointment.
Contact:
Dr. Christine Schellin
Silver State Hearing & Balance, Inc.
3735 Lakeside Drive, Suite A
Reno, NV 89509
(775) 473-9378