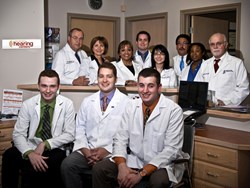 San Antonio, TX (PRWEB) November 26, 2013
The many distinct types of hearing aids and the many different acronyms used to refer to them make it hard for novice buyers to perform research. To help the public make sense of the numerous types and the definitions of all the acronyms, San Antonio Hearing Centers recently posted a user-friendly list on their site at Hearing Aid Type and Style List – What Do All Those Acronyms Mean?
The guide is organized alphabetically and consists of the following major hearing aid types:
Behind the Ear (BTE)
Completely in Canal (CIC)
Half Shell (HS)
In the Ear (ITE)
In the Canal (ITC)
Invisible in Canal (IIC)
Open Ear / Open Fit
Receiver In the Ear (RIE or RITE)
A side-by-side list of all the major hearing aid styles quickly demonstrates why shoppers often have difficulty making sense of the similar names and acronyms. The quick reference guide written by San Antonio Hearing Centers is a first step in clearing up some of that confusion. At the same time, the Hearing Aid Dispensers at San Antonio Hearing Centers encourage any person considering a hearing aid purchase not to depend upon online research alone, but rather to schedule an appointment with a specialist. The Hearing Instrument Specialists help consumers trim the list of options by inquiring about activities, lifestyle and the surroundings in which the hearing aid will be used. These are all important aspects in choosing the best hearing aid.
About Debby Taylor:
Debby Taylor is nationally Board Certified in Hearing Instrument Sciences (BC-HIS) and has advanced training on all major hearing aid circuits. She is licensed in the State of Texas, is a member of the Texas Hearing Aid Association and a member of the International Hearing Society. Taylor enjoys hosting community seminars and lectures for consumers and providing complimentary hearing and balance screenings in assisted-living homes and at health fairs.
About San Antonio Hearing Centers:
San Antonio Hearing Centers was established to provide patients the best possible hearing care based upon their individual needs. The company provides a full array of services related to prevention, evaluation, and rehabilitation of hearing impairment. With respect and compassion, San Antonio Hearing Centers will actively listen to how hearing loss has affected the quality of each new patient's life. The company is committed to removing the barriers between the client and the professional to collaboratively work toward better hearing and understanding. San Antonio Hearing Centers has 5 locations and 6 Hearing Instrument Specialists to serve you. Four locations throughout San Antonio and one in New Braunfels.
Contact:
Debby Taylor
sahearingcenters.com
San Antonio Hearing Centers
8003 Broadway St
San Antonio, TX 78209
(210) 428-6900
San Antonio Hearing Centers
12413 Judson Rd, Ste 200
San Antonio, TX 78233
(210) 485-1996
San Antonio Hearing Centers
510 Med Court, Ste 203
San Antonio, TX 78258
(210) 390-0899
San Antonio Hearing Centers
8600 Wurzbach Road, Suite 500
San Antonio, TX 78240
(210) 390-0839
San Antonio Hearing Centers
628 B South Business 35
New Braunfels, TX 78130
(830) 387-2389