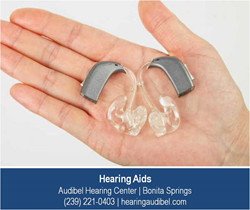 Bonita Springs, FL (PRWEB) February 26, 2014
It's not easy to find quality information about hearing loss and hearing aids in Bonita Springs. Residents of Bonita Springs, particularly those over age sixty-five, are frequently inundated with hearing aid advertisements and promotions which leave them unsure who to trust. Audibel Hearing Center felt there was a need to offer better, neutral information and facts to people suffering with hearing loss. In response, they created a brand new website featuring educational content on hearing problems, hearing aids, ringing in the ears and other related topics. The redesigned website was constructed solely with education, not marketing, in mind. It offers in-depth answers to the questions that hearing instrument specialists confront most often and a blog section where the team can update patients on new hearing aid technologies, hearing loss treatment breakthroughs, and local events. The new website has the following main sections:
The Hearing Info/Hearing Loss area of the website teaches visitors how the ear and brain interact to make hearing possible. It explains how the sense of hearing operates and examines the parts that can go wrong to cause a hearing impairment.
The Hearing Aids area includes information on the most common types of hearing aids including the relative pros and cons of each. All the various acronyms used to describe hearing aid designs (such as ITE for in-the-ear) and the lists of technical features (such as directional microphones) can make it difficult and overwhelming to shop for hearing aids. A little bit of independent research to understand the major options and terms related to hearing aids really helps new patients ask better questions when they come in to see a hearing instrument specialist. Last but not least there is information about the many hearing aid accessories ranging from cleaning supplies, to dehumidifiers to batteries.
The final main section of the website is the Services section where site visitors can get specifics about the primary services offered at Audibel Hearing Center. The Services area is divided into 3 primary sub-sections covering Hearing Aid Fittings and Adjustments, Hearing Evaluations and Tinnitus Treatment.
About Richard Amon
Richard Amon has been engaged in health care for more than 20 years. In 1995, after receiving a degree in Physical Therapy, he moved to Southwest Florida and started on a cause that would help those who are hearing impaired. Richard Amon is Nationally Board Certified in Hearing Instrument Sciences and is involved with the Florida Society of Hearing Health Care Professionals, the International Hearing Society and the Hearing Loss Association of America.
About Audibel Hearing Center
The Audibel Hearing Center team welcomes clients with mild, moderate and severe hearing losses. The hearing specialists pride themselves on bringing sound to the ears of even the most hard-to-fit clients. Products and services at Audibel Hearing Center include hearing aids, hearing evaluations, tinnitus therapy, hearing loss preventive advice and hearing aid accessories. The staff believes in treating people as individuals with unique challenges and needs. Clients can rest assured that the Audibel Hearing Center staff is eager to provide the best possible experience for each person coming in the door at any of our 5 SW Florida locations.
Contact:
Richard Amon
http://www.hearingaudibel.com
Audibel Hearing Center
28901 Trails Edge Blvd., Ste 101
Bonita Springs, FL 34134
(239) 221-0403
Audibel Hearing Center
6900 Daniels Pkwy, Ste 10
Fort Myers, FL 33912
(239) 791-7714
Audibel Hearing Center
2209 Santa Barbara Blvd., Ste 102
Cape Coral, FL 33991
(239) 214-7700
Audibel Hearing Center
3347 Tamiami Trail N
Naples, FL 34103
(239) 431-3994
Audibel Hearing Center
950 N. Collier Blvd., Ste 402
Marco Island, FL 34145
(239) 300-9527