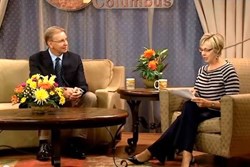 Columbus, Ohio (PRWEB) September 30, 2013
Daytime Columbus host Gail Hogan helps educate local residents about hearing loss and possible solutions in her interview with Columbus audiologist Darryl Will of Hearing Health Solutions. Darryl appeared on the daytime talk TV program to help raise awareness about hearing health and to share alarming data about its prevalence among the elderly, veterans and teenagers. The video recording of the program can be viewed on the Hearing Health Solutions website and YouTube channel.
In the interview, Darryl Will discusses hearing loss, the common signs of hearing loss, and modern hearing aid options for those suffering. Darryl indicates that many people suffering from hearing loss don't even realize it's a problem because it happens so gradually and they don't notice a difference day to day. In many cases, the family members are the first to notice that hearing ability is declining. For example, when a loved one notices the TV volume gradually getting louder or recurring requests to repeat what is being said, Hearing Health Solutions suggests a comprehensive hearing evaluation. Not all hearing losses are treated with hearing aids. Sometimes simply removing wax build-up can restore normal hearing. However, many people avoid scheduling a hearing test, because they assume that the audiologist will recommend hearing aids. There can be many causes of hearing loss and just as many solutions that will be determined after the evaluation.
Where appropriate, Hearing Health Solutions provides a wide range of hearing aids to accommodate the unique needs of each patient. Solutions can include traditional styles behind the ear and hearing aids that are placed down in the ear canal. A new "invisible" hearing aid by Lyric is also offered by Hearing Health Solutions and is an extended-wear hearing aid that can be worn in the shower, during exercise, and for up to 3 months at a time.
Darryl Will encourages those that suspect they are experiencing some hearing loss to go see an audiologist in Columbus for an evaluation to determine the exact cause and the best solution.
About Darryl Will:
Audiologist, Darryl Will, received both his Bachelor of Arts degree in Speech and Hearing Science and Master of Arts degree from The Ohio State University. He was a co-founder of Hearing Health Solutions in 1983. He has 30+ years experience in the field of audiology and specializes in the identification and rehabilitation of hearing loss through amplification. Darryl is also a member of the American Speech-Language Hearing Association and the American Academy of Audiology.
About Hearing Health Solutions:
Hearing Health Solutions includes three locations in Columbus as well as locations in the Delaware, Dublin and Westerville communities in Ohio. Since 1983, Hearing Health Solutions has served individuals in Columbus and the surrounding area.
The company's nine audiologists and board certified hearing instrument specialists work with customers to determine the degree of hearing loss and find potential solutions – whether a client needs one hearing aid or two, and whether they're interested in digital or analog technology – to fit a customer's preferences and lifestyle. All employees have graduate-level degrees in audiology or communication disorders and have years of experience helping clients to improve their hearing.
These professionals can work with customers to determine the cause of hearing issues, like tinnitus, and help customers to control their symptoms. Hearing Health Solutions offers hearing aid fitting and evaluation services as well as adjustment and maintenance services. Customers can bring their hearing devices in for ear wax removal or service anytime after their purchase.
For those who are concerned about perceived hearing loss, or dealing with a ringing in the ears, whether a customer is looking for a first hearing aid or searching for a replacement, Hearing Health Solutions has a variety of options from digital or analog hearing aids to cell phone accessories and earplugs designed to help customers to hear the world as clearly as possible.
Contact:
Mr. Jim Barlow
http://hearinghealthsolutions.com
Hearing Health Solutions
974 Bethel Road
Columbus, Ohio, 43214
(614) 335-4127
Hearing Health Solutions
4300 Clime Road
Columbus, OH 43228
(614) 335-4301
Hearing Health Solutions
6499 East Broad Street
Columbus, OH 43213
(614) 335-4098
Hearing Health Solutions
801 OhioHealth Blvd Ste. 220
Delaware, OH 43015
(614) 335-4387
Hearing Health Solutions
6670 Perimeter Drive, Ste. 120
Dublin, OH 43016
(614) 335-4101
Hearing Health Solutions
477 Cooper Road, Ste 480
Westerville, OH 43081
(614) 335-4302