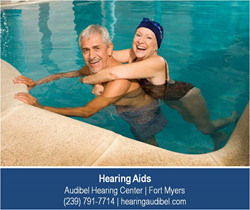 Fort Myers, FL (PRWEB) February 27, 2014
To share hearing health tips and advice with area residents on a regular basis, Audibel Hearing Center recently created a blog on the company website.
The newly established blog section will showcase weekly articles from the hearing instrument specialists at Audibel Hearing Center addressing a broad assortment of themes such as proper hearing aid maintenance, detecting hearing loss in children, and answers to frequently asked questions. The hearing specialists plan to publish a new post on the blog weekly. Articles added to the blog section will also be offered via Audibel Hearing Center's social media pages. An blog's RSS feed will conveniently syndicate all new posts.
Audibel Hearing Center hopes that all of their former and current patients that wear hearing aids in Fort Myers FL will visit the website regularly to see what is new on the blog. The blog will expand rapidly over time from its present small size to a library of hundreds of useful articles. As of today, visitors will find information on the following topics:
Can You Get the Top Score in Better Hearing?
Like Bobsledding, Treating Hearing Loss is a Team Effort
What Wireless Hearing Aid Streaming Means for You
No Matter Where You Roam – We've Got You Covered
To be responsive to the needs of local residents, Audibel Hearing Center encourages anyone with hearing loss or who wears hearing aids in Fort Myers FL to submit additional category or topic suggestions.
About Richard Amon
Richard Amon has been engaged in health care for more than 20 years. In 1995, after receiving a degree in Physical Therapy, he moved to Southwest Florida and started on a cause that would help those who are hearing impaired. Richard Amon is Nationally Board Certified in Hearing Instrument Sciences and is involved with the Florida Society of Hearing Health Care Professionals, the International Hearing Society and the Hearing Loss Association of America.
About Audibel Hearing Center
The Audibel Hearing Center team welcomes clients with mild, moderate and severe hearing losses. The hearing specialists pride themselves on bringing sound to the ears of even the most hard-to-fit clients. Products and services at Audibel Hearing Center include hearing aids, hearing evaluations, tinnitus therapy, hearing loss preventive advice and hearing aid accessories. The staff believes in treating people as individuals with unique challenges and needs. Clients can rest assured that the Audibel Hearing Center staff is eager to provide the best possible experience for each person coming in the door at any of our 5 SW Florida locations.
Contact:
Richard Amon
http://www.hearingaudibel.com
Audibel Hearing Center
28901 Trails Edge Blvd., Ste 101
Bonita Springs, FL 34134
(239) 221-0403
Audibel Hearing Center
6900 Daniels Pkwy, Ste 10
Fort Myers, FL 33912
(239) 791-7714
Audibel Hearing Center
2209 Santa Barbara Blvd., Ste 102
Cape Coral, FL 33991
(239) 214-7700
Audibel Hearing Center
3347 Tamiami Trail N
Naples, FL 34103
(239) 431-3994
Audibel Hearing Center
950 N. Collier Blvd., Ste 402
Marco Island, FL 34145
(239) 300-9527