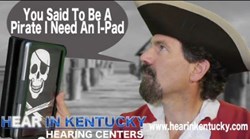 Louisville, KY (PRWEB) September 30, 2013
Everyone likes to laughs. Amid the typical TV commercials that focus on features and benefits, Hear in Kentucky Hearing Centers has gone a different route and focused on generating giggles to educate viewers about hearing loss and hearing aids in Louisville KY. Although hearing loss is no laughing matter, any person that has spent time with a hearing impaired person know that misunderstandings are inevitable. Most of these miscommunications are a nuisance, but some are incredibly funny when the words are totally out of context.
The new TV campaign from Hear in Kentucky Hearing Centers focuses on these miscommunications in some unusual settings. A pirate thinks he "needs an i-Pad" when in reality he "needs an eye patch", a hunter thinks his friend spotted a "buccaneer" when he really spotted a "buck near", and a bartender serves up a "stout" when he misunderstands "shout". These are great examples of the everyday communication difficulties caused by even a mild or moderate hearing loss. They are funny on TV, but not when they occur in real life.
Hear in Kentucky Hearing Centers hopes that the TV campaign will be well received by Louisville-area residents that suffered hearing loss and have delayed scheduling a professional hearing test. They are ready to answer any questions that local residents have about any aspect of hearing healthcare or to take suggestion for the next funny video to ad to the TV campaign.
All of the commercials are also viewable on the company's YouTube channel and on the commercials page of the website.
About Hear in Kentucky Hearing Centers
Hear in Kentucky Hearing Centers has served Louisville Kentucky and its surrounding areas since 1992 with community offices in St. Matthews, Okolona, and Middletown. They have successfully grown to become one of Louisville's largest independent network of licensed hearing healthcare providers and offer clients leading-edge hearing health care solutions including a wide assortment of hearing aids, assistive listening devices, and hearing protection. Each office is equipped to provide quality hearing testing and hearing aid evaluations.
Contact:
Greta Ratliff
http://hearinkentucky.com
Hear in Kentucky Hearing Centers
102A Fairfax Avenue
Louisville KY 40207
(502) 324-1103
Hear in Kentucky Hearing Centers
7132 Preston Hwy
Louisville KY 40219
(502) 287-1510
Hear in Kentucky Hearing Centers
12420 Shelbyville Rd
Middletown KY 40243
(502) 287-1508