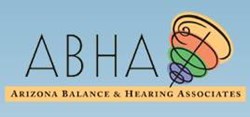 Phoenix, AZ (PRWEB) September 10, 2013
Arizona Balance & Hearing Associates, a leading provider of hearing aids and balance disorder services in the Phoenix and Scottsdale AZ area has recently changed its primary website domain name. The new official website domain is http://azbalanceandhearing.com. The former domain at arizonabalance.com is still live and will soon be redirected to the new domain to avoid confusion among patients.
Arizona Balance & Hearing Associates owner Dana Day decided to make the domain change to reflect a strategic shift in the service being offered. Although 'Hearing' has always been part of the business name, it wasn't explicitly included in the initial selection of a domain name because the business focus was more on balance disorder treatment. Going forward the practice plans to increase the number of hearing care services and patients and its expanding its online and offline marketing activities to attract patients needing hearing tests and hearing aids in Phoenix and Scottsdale. As part of the new strategic direction, the owners felt it was important to include 'Hearing' as part of the official domain.
Because of the dual focus on both hearing and balance, the practice is uniquely qualified to treat patients that need both sets of services from one expert provider.
About Arizona Balance & Hearing Associates (ABHA)
Well established throughout the Greater Phoenix area and beyond, ABHA offers world class clinical services in hearing and balance (vestibular) testing, pediatrics, and neurodiagnostics. There are three A.S.H.A.-certified audiologists on site.
Founded back in 1995, Arizona Balance & Hearing operated as the outpatient Balance and Hearing Center on the campus of St. Joseph's Hospital and Medical Center. In January 2004, office expansion caused them to relocate across the street from St. Joe's. ABHA still enjoys a strong professional working relationship with St. Joseph's and the Barrow Neurological Institute, as well as the majority of Neuro-Otologists, Oto-Neurologists, Otolaryngologists (Ear, Nose and Throat), Internal Medicine practitioners and Pediatricians in the area.
Contact:
Dr. Dana Day, Au.D.
Arizona Balance & Hearing Associates
333 W. Thomas Rd., Ste 207
Phoenix, AZ 85013
(602) 281-4095
Arizona Hearing & Balance Associates
15757 N. 78th St., Ste A
Scottsdale, AZ 85260
(602) 814-0401