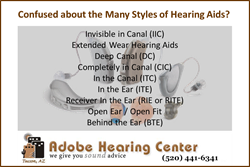 Tucson, Az (PRWEB) October 24, 2013
Finding hearing aids in Tucson AZ can be challenging to research because of the vast amount of new vocabulary and acronyms used to describe them. It is especially hard for the first time hearing aid shopper. To help consumers make sense of the various types and the meanings of all the abbreviations, Adobe Hearing Center just recently released a quick reference guide on their website at http://adobehearingcenter.com.
The guide contains basic information on the most popular hearing aid styles including Invisible in Canal, Completely in Canal, In the Canal, In the Ear, Receiver In the Ear and Behind the Ear.
When all the hearing aid models are shown side by side, it's easy to understand why consumers have a hard time differentiating them. Many of the names and abbreviations are very similar. Despite the similar names, these hearing aid styles differ in crucial ways. It is the goal of the quick reference guide created by Adobe Hearing Center to highlight these fundamental differences. At the same time, the audiologists at Adobe Hearing Center encourage any person considering a hearing aid purchase not to depend upon internet research alone, but rather to make an appointment with a professional. The professional is able to suggest particular types and models in line with the results of your hearing test and some lifestyle questions about where you intend to use your hearing aid and the kinds of hobbies you regularly participate in.
About Dr. Lou Cheek, Au.D.
Dr. Lou Cheek, Au.D. is the owner of Adobe Hearing Center and has been part of the Tucson community since 1980. Dr. Cheek earned her Bachelor of Science in Speech and Hearing Sciences and her Master of Science in Audiology from the University of Arizona. She received her Doctor of Audiology (AuD) degree from the Arizona School of Health Sciences. Prior to founding Adobe Hearing Center, Dr. Creek spent 8 years as the clinical audiologist at Thomas-Davis Medical Center in the Ear, Nose, and Throat Department. Dr. Lou Cheek is certified by the American Speech and Hearing Association and is an expert in audiological care for infants, children, adolescents and adults.
About Adobe Hearing Center
Founded in 1998 by Audiologist Dr. Lou Creek to provide hearing tests, audiological services and hearing aids in Tucson, AZ, Adobe Hearing Center has grown to include 2 doctors of Audiology and a Spanish-speaking Hearing Aid Dispenser. Adobe Hearing Center offers a full range of hearing care services including hearing tests, diagnostic testing, hearing aids, custom earmolds, and hearing aid repairs. It is one of the few Tuscon audiology practices that has comprehensive services for children and infants. The staff is committed to providing the best hearing health care in Tucson in a friendly, family-oriented, relaxing atmosphere.
Contact:
Dr. Lou Cheek, Au.D.
Adobe Hearing Center, Inc.
2102 N. Country Club Rd. #12
Tucson, AZ 87516
(520) 441-6341