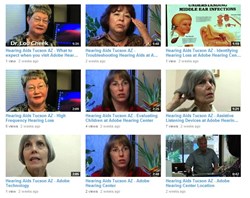 Tucson, AZ (PRWEB) August 30, 2013
People experiencing hearing loss have lots of questions. Even after purchasing a hearing aid, the questions about hearing aid maintenance and new technologies continue. To address the most common questions posed by her patients, Dr. Lou Creek of Adobe Hearing Center in Tuscon AZ recently created an extensive video FAQ library. The videos are intended to help patients seeking unbiased information about hearing care services and hearing aids in Tuscon AZ. To date, Dr. Lou Creek has recorded the following nine videos and she will be adding to the collection over time.
1) An introduction to Adobe Hearing Center.
2) What to expect when you visit Adobe Hearing Center.
3) How we make hearing care patients comfortable.
4) How to troubleshoot issues you are having with your hearing aid.
5) How the audiologists at Adobe Hearing Center test and evaluate your hearing.
6) What does it mean to have high frequency hearing loss?
7) How Adobe Hearing Center works with infants and young children.
8) What are assistive listening devices and how to make the most use of them.
9) Technological advances in hearing testing and diagnostics technology.
These nine videos along with future additions can be found at http://www.youtube.com/user/hearingaidstucson.
About Dr. Lou Cheek, Au.D.
Dr. Lou Cheek, Au.D. is the owner of Adobe Hearing Center and has been part of the Tucson community since 1980. Dr. Cheek earned her Bachelor of Science in Speech and Hearing Sciences and her Master of Science in Audiology from the University of Arizona. She received her Doctor of Audiology (AuD) degree from the Arizona School of Health Sciences.
Dr. Lou Cheek is certified by the American Speech and Hearing Association and is an expert in audiological care for infants, children, adolescents and adults. Prior to founding Adobe Hearing Center, Dr. Creek spent 8 years as the clinical audiologist at Thomas-Davis Medical Center in the Ear, Nose, and Throat Department.
About Adobe Hearing Center
Founded in 1998 by Audiologist Dr. Lou Creek, Adobe Hearing Center has grown to include 2 Doctors of Audiology and a Spanish-speaking Hearing Aid Dispenser. Adobe Hearing Center offers a full range of hearing care services including hearing tests, diagnostic testing, hearing aids, custom earmolds, and hearing aid repairs. It is one of the few Tuscon audiology practices that has comprehensive hearing services for children and infants. The staff is committed to providing the best hearing health care in Tucson in a friendly, family-oriented, relaxing atmosphere.
Contact:
Dr. Lou Cheek, Au.D.
http://adobehearingcenter.com
Adobe Hearing Center, Inc.
2102 N. Country Club Rd. #12
Tucson, AZ 87516
(520) 441-6341