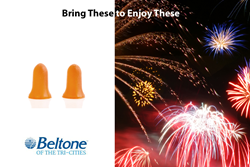 Kingsport, TN (PRWEB) June 26, 2014
As your family gets ready to enjoy fireworks next week on July 4th, Beltone of the Tri-Cities would like to remind everyone that it only takes a few simple actions to prevent lifelong hearing problems. All those 'rockets bursting in air' can generate sounds in the range of 120-140 decibels. At these noise levels, the safe exposure time is zero. This means that noise-induced hearing damage will occur without the use of hearing protection. The decibels levels experienced by each individual attending a fireworks show vary as a function of distance and age.
Children experience fireworks as louder than adults. Infants experience them the loudest of all. This is because they have narrower ear canals. Even if parents feel that they are sitting far enough away from the show that the noise level is appropriate for them, them need to bring along ear protection for the youngsters. Here are a few specific tips to keep ears safe on the 4th.

Sit at least 500 feet from where the fireworks are launched. Fireworks noise for those 800 feet away ranges from 88 to 126 dB. But from 10 feet away, it's 155 dB! If you have to shout to be heard by someone standing next to you, you are too close.
Pack ear protection for every member of the family. Ear plugs can be obtained from sporting goods stores and drug stores for a few dollars. (These plugs may be too big or children under age 7 or 8, so for younger ears consider child-size earmuffs. Ear protection must fit properly to work.)
If you experience pain, ringing or buzzing in your ears, move farther away.
About Troy Greenwald
Hearing Instrument Specialist, Troy Greenwald attended the Quinnipiac University in Connecticut and American University in Washington, DC before purchasing the Beltone of Tri-Cities practice in March of 2011. As the owner, Troy's focus is on creating an environment with the highest quality patient care standards and no sales pressure.
About Beltone of the Tri-Cities
Beltone of the Tri-Cities, the only full-service Beltone™ Hearing Instrument Specialist in the Tri-Cities area, provides innovative, personalized hearing loss solutions and unbeatable friendly, caring service. Their living room-like offices are designed to make patients feel welcome and relaxed from the moment they arrive. In addition to offering a wide array of highly innovative hearing aid solutions – including wireless assisted hearing technology – Beltone of the Tri-cities provides complimentary hearing examinations and will service all brands of hearing aids regardless of age. Beltone has 3 clinic locations in the Tri-Cities area of Tennessee in Kingsport, Johnson City and Bristol TN.
Contact:
Troy Greenwald
http://tricitiesbeltone.com
Beltone of the Tri-Cities
2408 Memorial Blvd
Kingsport, TN 37664
(423) 343-4104
Beltone of the Tri-Cities
516 W Oakland Ave
Johnson City, TN 37601
(423) 328-1250
Beltone of the Tri-Cities
28 Midway St
Bristol, TN 37620
(423) 484-0313