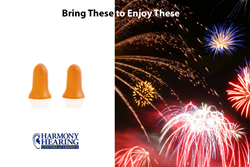 Orlando, FL (PRWEB) June 26, 2014
It only take a few simple actions to guard against lifelong hearing damage from fireworks. That's the message Harmony Hearing Centers of America wants to get out before families head off to enjoy Fourth of July fireworks displays. We all know that fireworks are loud, but readers may be surprised to learn just how loud. Fireworks can reach decibels levels of 120 to 140. For noises this loud, the American Academy of Audiology lists the safe exposure time as zero minutes. Essentially, that statement means that hearing protection is a necessity to avoid noise-related hearing damage. Not everyone experiences the same decibel level when attending the same fireworks show. The exact decibels experienced depend on the observers distance from the booming and their age.
Because children have narrower ear canals, they tend to experience the sound of fireworks as louder than adults. They are even louder for infants with their tiny ear canals. For this reason, infants and children should wear ear protection when watching fireworks (even at distances that adults judge to be safe for themselves). To keep ears safe on the 4th and prevent short-term and long-term hearing damage, follow these simple tips.

Sit at least 500 feet from where the fireworks are launched. Fireworks noise for spectators 800 feet away ranges from 88 to 126 dB. But from 10 feet away, it's 155 dB-louder than a military jet takeoff! Your environment is too noisy if you have to shout to be heard by someone standing next to you.
Bring earplugs for every family member. You can find them at many drug stores or sporting goods stores for just for a few dollars or less. (For children under 7 or 8, these earplugs may be too big, so consider using child-size earmuffs. Ear protection must fit properly in order to provide protection.)
Use common sense. Pain, ringing or buzzing in the ears is a sign that you are too close.
About Dr. Al Turri, Au.D.
Dr. Al Turri is founder and director of Harmony Hearing Centers of America. Dr. Turri graduated from the University of South Florida with a degree in social sciences with the intent of becoming a speech pathologist. As a graduate student at University of South Florida he discovered a love for audiology and completed his Master of Science degree in Audiology in 2001. He went on to complete his Doctor of Audiology (Au.D) degress at School of Audiology at the Pennsylvania College of Optometry. In addition to operating the five Harmony Hearing Centers of America locations, Dr. Turri really enjoys working with individual patients to address their hearing, tinnitus and balance needs.
About Harmony Hearing Centers of America:
Harmony Hearing Centers of America, has five locations across Orlando and the surrounding Florida communities of Altamonte Springs, Clermont and Winter Park. The company and its professional staff focus on improve each individual patient's quality of life through better hearing. Harmony Hearing Centers of America carries a full selection of hearing aids and assistive listening devices, including new, invisible hearing aid styles and digital models with advanced features, in order to meet each customer's specific hearing needs.
Contact Us:
Dr. Al Turri
http://fixmyhearing.com
Harmony Hearing Centers of America
2601 Delaney Ave
Orlando, FL 32806
(407) 329-4885
Harmony Hearing Centers of America
715 Douglas Ave
Altamonte Springs, FL 32714
(321) 441-9556
Harmony Hearing Centers of America
4331 S. Highway 27
Clermont, FL 34711
(352) 729-3377
Harmony Hearing Centers of America
2431 Aloma Ave Ste 102
Winter Park, FL 32792
(407) 278-4987
Harmony Hearing Centers of America
7009 Dr. Phillips Blvd.
Ste 140
Orlando FL 32819
(407) 965-3086